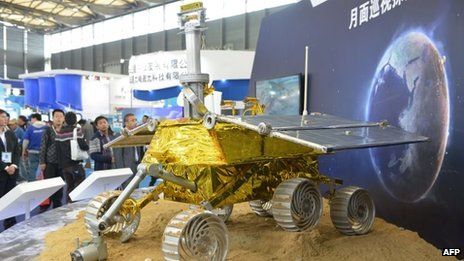 China's first-ever moon lander will be launched early next month. The robotic mission will include a rover, which was named after the Moon Rabbit of Chinese folklore. The landing may compromise NASA's current lunar mission.
The lander and the rover are both part of the Chang'e-3 mission, the third in a series named after the Chinese moon goddess. Continuing the folklore naming trend is the name of the rover, which was called Yutu after the goddess's pet rabbit.
Yutu, also known as Jade Rabbit, is the Chinese counterpart to the western 'man in the moon', a creature, whose outline is said to be visible on the moon's surface. The legend envisions the rabbit compounding the elixir of immortality for Chang'e.
The name for the six-wheeled 120-kg rover was chosen in an online poll, with 3.4 million people taking part, the Xinhua news agency reported.
"Yutu is a symbol of kindness, purity and agility, and is identical to the moon rover in both outlook and connotation,"
it quoted Li Benzheng, deputy commander-in-chief of China's lunar program, as saying.
"Yutu also reflects China's peaceful use of space," he added.