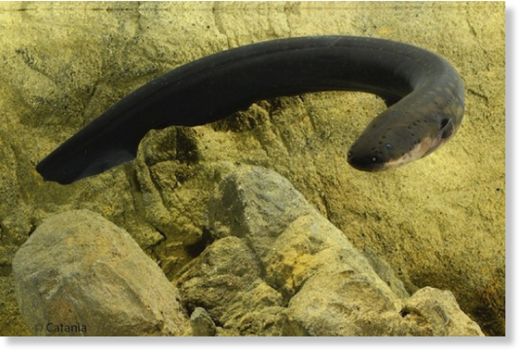 Electric eels are badass. Not only can they produce an incapacitating 600-volt zap -- five times that of a U.S. wall socket -- they can also remotely control their prey through water. The predatory eels create a variety of electric discharges that range from lower-voltage ones sent out as environmental sensors to high-voltage strikes that allow them to hijack the nerves of their prey -- immobilizing the muscles and preventing escape.
They can even send out short pulses that force the prey to give up their location
. The
findings
were published in
Science
this week.
To understand the mechanism of the eel's shocking strike,
Vanderbilt University's Kenneth Catania
conducted a series of experiments in large aquariums equipped with various detectors. When placed in tanks with delectable fish and worms, the scale-less Amazonian
Electrophorus electricus
releases pulses of electricity that appear to stun the prey and freeze them in place. Using a high-speed video system, he observed that an eel begins an attack with a high-frequency volley of high-voltage pulses up to 15 milliseconds before striking. In just three milliseconds, the fish are completely paralyzed. They regain mobility after a short period, and they could swim away if the eel doesn't get to them first.