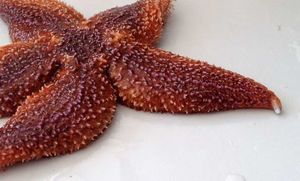 Starfish have strange talents. Two biology students from University of Southern Denmark have
revealed that starfish are able to squeeze foreign bodies along the length of their body cavities and out through their arm tips.
This newly discovered talent gives insight into how certain animals are able to quickly heal themselves.
The two biology students, Frederik Ekholm Gaardsted Christensen and Trine Bottos Olsen
have discovered a starfish behaviour that has never previously been described in the scientific literature.
As part of their studies they were asked to tag some starfish (
Asterias rubens
), so that researchers could reidentify and study the starfish. The tags were injected into the starfish, as a veterinarian tags a dog or cat.
"But every time we put a tag into a starfish, they rid themselves of the tag within a few days. It came out directly through the skin;
the starfish simply pushed it out through the skin at the end of one arm and then went on as if nothing had happened",
the two students explain.