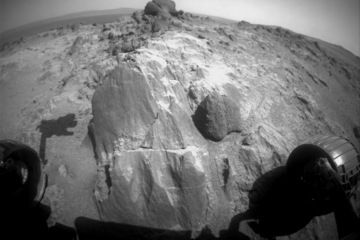 NASA's
Opportunity
Mars rover is taking a break in the home stretch of its Red Planet marathon to study some rocks the likes of which it's never seen before.
The intriguing rocks lie atop a hill overlooking a site dubbed Marathon Valley — so named because
Opportunity
will have traveled the marathon distance of 26.2 miles (42.195 kilometers) on
Mars
by the time it gets there. As of Thursday (March 5), the rover's odometer read 26.139 miles (42.067 km), leaving it just 140 yards (128 meters) short of the milestone.