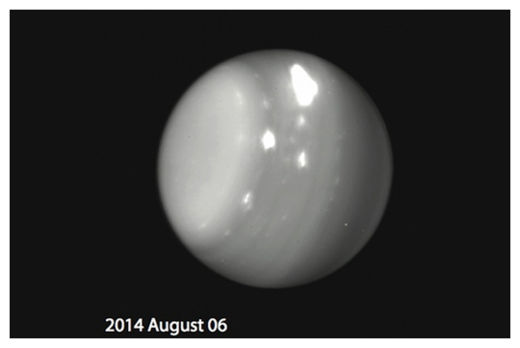 First off, you know it's pronounced "YOOR-ah-nus," right? Okay, good. Let's move on.
As hurricanes take aim at Hawaii, astronomers in Hawaii aimed their telescopes at storms raging on another planet: distant Uranus, the tilted ice giant orbiting the sun nearly 20 times farther away than Earth.
Wrapped in an atmosphere tinted pale blue by high-altitude methane, Uranus has occasionally been observed to develop large storms in its frigid windy skies. NASA's Voyager 2 saw a few small storm clouds spotting Uranus during its
flyby
in Jan. 1986, and more recently some large but short-lived storms were observed by
Hubble
and the
W.M. Keck Observatory
as the planet moved toward its equinox in 2007. Now, seven years after its equinox, swirling storms are once again blooming on Uranus - and Keck astronomers have caught them on camera.
It's not just one storm, either; several have appeared in infrared images of Uranus, including one enormous storm that's even bigger than a previously-observed giant that was nicknamed "Berg" because of its resemblance to an iceberg drifting through polar seas.