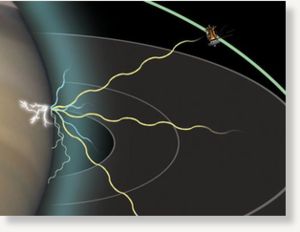 Scientists working with data from NASA's Cassini mission - now in its sixth year of operations at Saturn -
have discovered an electrical current running between Saturn and its moon Enceladus that creates an observable emission on the ringed planet.
Don Mitchell, Cassini science team co-investigator from the Johns Hopkins University Applied Physics Laboratory, first observed the current connection as a strong "bull's-eye" emission in the middle of images snapped by the APL-built ion and neutral camera, known as INCA, on Cassini.
"The ion beam seen by the camera appears at exceptionally high energy, between about 30,000 and 80,000 electron volts - surprising for an interaction with such a small moon," said Mitchell, co-author of a paper on the research appearing in the April 21 issue of the journal
Nature
.
This planet-moon connection also happens at Jupiter; Io, Europa and Ganymede all produce visible auroral footprints.