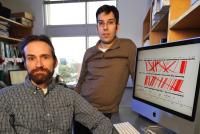 Since the days of Darwin, the "tree of life" has been the preeminent metaphor for the process of evolution, reflecting the gradual branching and changing of individual species.
The discovery that a large cluster of genes appears to have jumped directly from one species of fungus to another, however, significantly strengthens the argument that a different metaphor, such as a mosaic, may be more appropriate.
"The fungi are telling us something important about evolution ... something we didn't know," said Antonis Rokas, assistant professor of biological sciences at Vanderbilt. He and research associate Jason Slot reported their discovery in the Jan. 25 issue of the journal
Current Biology.
Rokas and Slot discovered that millions of years ago, a cluster of 23 genes jumped from one strain of mold commonly found on starchy foods like bread and potatoes, Aspergillus, to another strain of mold that lives in herbivore dung and specializes in breaking down plant fibers, Podospora.
The findings came as a major surprise, as there are only a handful of cases in recent evolutionary history where this type of gene transfer between organisms, known as
horizontal gene transfer
, has been reported in complex cells like those found in plants, animals and fungi.
"
Because most people didn't believe that such large gene clusters could be transferred horizontally, they haven't looked for them and they haven't been found
," Rokas said.