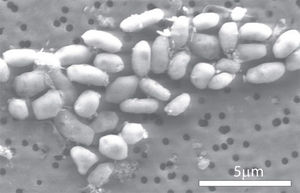 One of the more heated scientific debates of recent years has been stirred up again with the publication of new criticisms of the reported finding of "arsenic life."
The prestigious journal
Science
published the criticisms today (May 27) along with a defense of the study, which
Science
had posted online this past December.
A team of researchers led by Felisa Wolfe-Simon of NASA's Astrobiology Institute had studied bacteria collected from California's Mono Lake and reported finding evidence that these microorganisms were substituting the poisonous molecule arsenic for the phosphorous usually used to build DNA.
The discovery stood to overthrow scientists' understanding of the basic requirements for life.
Igniting a firestorm
The December report in
Science
was immediately met with skepticism from other scientists, as the journal noted today.
"
Science
received a wide range of correspondence that raised specific concerns about the Research Article's methods and interpretations," editor-in-chief Bruce Alberts wrote.
Others put it more bluntly: "The paper was harshly criticized for its lack of controls and unjustified conclusions," zoologist Rosemary Redfield of Canada's University of British Columbia wrote on her blog today.