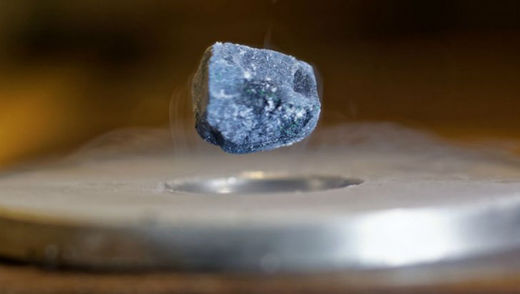 Referred to as a 'Jahn-Teller metal,' it could offer breakthroughs in the science of superconductivity.
The beautiful, hovering, crystalline material shown above is not a rare alien element. Rather, it represents a
newly discovered state of matter
entirely, reports Motherboard.
Most people are familiar with some of the common states of matter: solids, liquids and gases. Scientists also recognize a fourth state of matter - plasma - that is commonly observable here on Earth, as well as a host of other states that can only be created in the lab, such as Bose - Einstein condensates and neutron-degenerate matter.
Jahn-Teller metals
can now be added to this list, a state which appears to have the properties of
an insulator, superconductor, metal and magnet all wrapped into one
. It's the material's superconductivity which might be the most interesting trait, however. It has the potential to achieve superconductivity at a relatively high critical temperature ("high" as in -135 degrees Celsius as opposed to the sub -243.2 degrees Celsius required by many ordinary metallic superconductors), which is significant for the science of superconductivity.
Superconductors conduct electricity without resistance, so they have the
potential to revolutionize how we use and produce energy
. But these technologies become far more feasible if developed using high-temperature superconductivity.