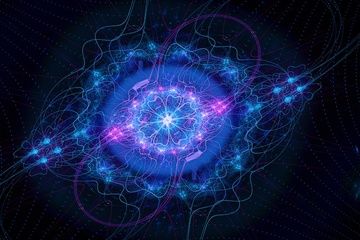 An extremely rare collision of massive subatomic particles could reveal the nuts and bolts of how the subatomic particles called Higgs bosons impart mass to other particles.
The
Higgs boson particle
, which was detected for the first time in 2012, is essentially tossed around like a ball between two force-carrying particles known as W-bosons when they scatter, or bounce off of one another, a new data analysis revealed.
The data comes from the ATLAS experiment, the same proton-collision experiment that revealed the Higgs boson, at the
Large Hadron Collider
(LHC), a 17-mille-long (27 kilometers) underground atom smasher on the border of Switzerland and France.
By studying how much the Higgs sticks to the W-bosons during this scattering process, the team could learn new details about how strongly the elusive Higgs bosoninteracts with the field that gives all particles their mass.
"We are basically observing the Higgs boson at work to see whether it does its job the way we expect it to," said study co-author Marc-André Pleier, a physicist with the ATLAS project, and a researcher at Brookhaven National Laboratory in Upton, New York. [
Beyond Higgs: 5 Elusive Particles That May Lurk in the Universe
]