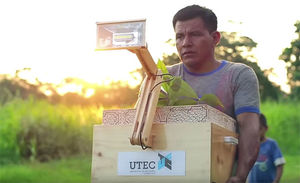 Researchers in Peru have a new way to capture electricity from plants and bacteria to help rainforest communities.
Researchers at the
Universidad de Ingeniería y Tecnología
(UTEC) have
developed a technique for capturing the electricity emitted from plants.
Actually, to be fair, it's
Geobacter
— a genus of bacteria that live in the soil — that do the grunt work.
Robby Berman at Slate
explains the process:
"[N]utrients in plants encounter microorganisms called 'geobacters' in the dirt, and that process releases electrons that electrodes in the dirt can capture. A grid of these electrodes can transfer the electrons into a standard battery."