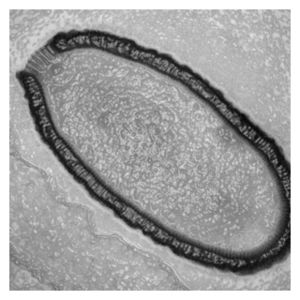 A mysterious giant virus buried for 30,000 years in Siberian permafrost has been resurrected.
The virus only infects single-celled organisms and doesn't closely resemble any known pathogens that harm humans.
Even so, the new discovery raises the possibility that as the climate warms and exploration expands in long-untouched regions of Siberia, humans could release ancient or eradicated viruses. These could include Neanderthal viruses or even smallpox that have lain dormant in the ice for thousands of years.
"There is now a non-zero probability that the pathogenic microbes that bothered [ancient human populations] could be revived, and most likely infect us as well," study co-author Jean-Michel Claverie, a bioinformatics researcher at Aix-Marseille University in France, wrote in an email.
"Those pathogens could be banal bacteria (curable with antibiotics) or resistant bacteria or nasty viruses. If they have been extinct for a long time, then
our immune system
is no longer prepared to respond to them."
(A "non-zero" probability just means the chances of the event happening are not "impossible.")