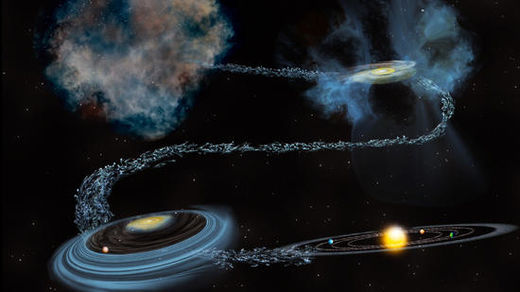 Some of the water molecules in your drinking glass were created more than 4.5 billion years ago, according to new research.
That makes them older than the Earth, older than the solar system - even older than the sun itself.
In a
study
published Thursday in
Science
, researchers say the distinct chemical signature of the water on Earth and throughout the solar system could occur only if some of that water formed before the swirling disk of dust and gas gave birth to the planets, moons, comets and asteroids.
This primordial water makes up 30% to 50% of the water on Earth, the researchers estimate.
This finding suggests that water, a key ingredient of life, may be common in young planetary systems across the universe, Cleeves and her colleagues say.
Scientists are still not entirely sure how water arrived on Earth. The part of the protoplanetary disk in which our planet formed was too hot for liquid or ice water to exist, and so the planet was born dry. Most experts believe the Earth's water came from ice in comets and asteroids that formed in a cooler environment, and later collided with our planet.
But this theory leads to more questions. Among them: Where did the water preserved in the comets and asteroids come from?
To find out, scientists turned to chemistry. Here on Earth, about one in every 3,000 molecules of water is made with a deuterium atom instead of a hydrogen atom.