Carnac, France - The rows of ancient standing stones stretch more than 900 metres amid the rolling countryside of southern Brittany.
Jutting out of the ground in a variety of bizarre shapes - some look like whale heads covered with moss and lichen, others like abstract sculptures carved by the wind and rain over the millennia - the nearly 1,100 stones form an extraordinary panorama.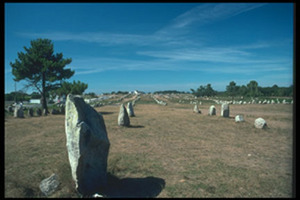 ©Corel Photography
This is photograph of the rows and rows of standing stones, Menhirs, in Carnac.