University of Queensland research is uncovering the truth behind the largest marsupial ever to walk the earth - the 2.5 tonne wombat-like Diprotodon.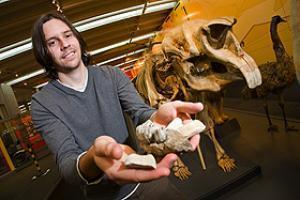 ©University of Queensland
Dr Price.
Standing 1.8 metres tall and reaching up to 3.5 metres in length, this huge beast lived more than 100,000 years ago, and despite being one of the most celebrated examples of Australia's Pleistocene "megafauna", there is very little known about them.
That is about to change thanks to work by Dr Gilbert Price, from UQ's Centre for Microscopy & Microanalysis, who has turned conventional wisdom on its head by discovering there was only one species of the massive animal.