A racoon-sized mammal which lived in India about 48 million years ago, may represent one of the missing links in whale evolution, suggests a new fossil study.
The research also challenges the idea that cetaceans - the order that includes whales, dolphins, and porpoises - split from their land-dwelling forebears and returned to the water to hunt aquatic prey.
Researchers studying 48-million-year-old fossils of Indohyus, an extinct animal which may have looked like a small deer, from ancient riverbeds in Kashmir suggest that the fossils represent a likely ancestor of the cetaceans.
Indohyus belongs to a family known as raoellids and would have lived around the same time as early cetaceans, both having descended from a common ancestor, they suggest.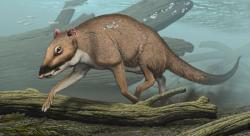 ©Carl Buell
Evidence shows that Indohyus was at least in part an eater of vegetation and did not return to a watery life to hunt