WELLINGTON, New Zealand - Scientists who conducted the most comprehensive survey to date of New Zealand's Antarctic waters were surprised by the size of some specimens found, including jellyfish with 12-foot tentacles and 2-foot-wide starfish.
A 2,000-mile journey through the Ross Sea that ended Thursday has also potentially turned up several new species, including as many as eight new mollusks.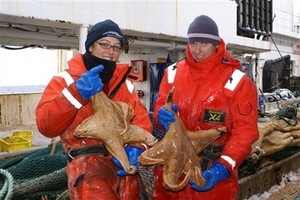 ©(AP Photo/NZ IPY-CAML, John Mitchell)
In this undated photo supplied by the National Institute of Water and Atmospheric Research, or NIWA, Benthic team members Sadie Mills, left, NIWA curatorial technician and Niki Davey, NIWA marine ecologist hold giant Macroptychaster sea star (starfish) measuring up to 60 cm across in Antarctic waters. Scientists found that some marine life doesn't come small in Antarctic waters, with giant-sized specimens surprising researchers during a survey of New Zealand's Antarctic seas that ended this week.