Spanish jawbone is earliest human remains from Western Europe.
Spanish palaeontologists have dug up the remains of a 1.2-million-year-old humanlike inhabitant of Western Europe. The fossil find shows that members of our genus, Homo , colonized this region far earlier than many experts had thought.
The primitive hominin - represented by just a fragment of jawbone bearing a handful of wobbly-looking teeth - lived in what is now the Sierra de Atapuerca region of northern Spain, an area already known as a treasure trove of early human remains.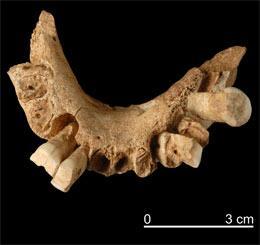 ©EIA/Jordi Mestre
The petite jaw suggests the oldest-found European was probably female.