Mars' north pole, like a French parfait, comes in layers.
Scientists analyzing radar images from NASA's Mars Reconnaissance Orbiter spacecraft have found as many as seven distinct layers of ice and dust beneath the north pole.
Roger J. Phillips, a scientist with the Southwest Research Institute in Boulder, Colo., said the layering was probably caused by changes in the planet's orbit over the last 4 million years.
When the planet tilts strongly on its axis, the surface ice erodes and is covered by a layer of dust, Phillips said.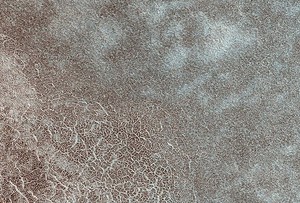 ©AP
This image provided by NASA is a small portion of an exposure taken in March 2008 by the High Resolution Imaging Science Experiment (HiRISE) camera on NASA's Mars Reconnaissance Orbiter. Some high-latitude areas on Mars and Earth exhibit similarly patterned ground where shallow fracturing has drawn polygons on the surface. This patterning may result from cycles of freezing and thawing.