The Johns Hopkins University Applied Physics Laboratory is sending a spacecraft closer to the sun than any probe has ever gone - and what it finds could revolutionize what we know about our star and the solar wind that influences everything in our solar system.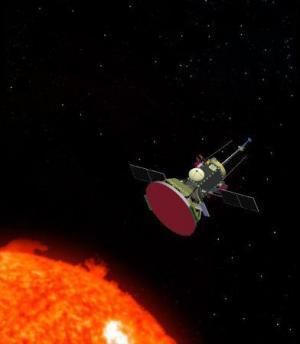 ©NASA/Johns Hopkins University Applied Physics Laboratory
Artist's concept of NASA's Solar Probe spacecraft making its daring pass toward the sun, where it will study the forces that create solar wind. The Johns Hopkins University Applied Physics Laboratory in Laurel, Md., will design and build the spacecraft, on a schedule to launch in 2015. Preliminary designs include a 9-foot-diameter, 6-inch-thick, carbon-foam-filled solar shield atop the spacecraft body, and two sets of solar arrays that would retract or extend as the spacecraft swings toward or away from the sun -- making sure the panels stay at proper temperatures and power levels.
NASA has tapped APL to develop the ambitious Solar Probe mission, which will study the streams of charged particles the sun hurls into space from a vantage point within the sun's corona - its outer atmosphere - where the processes that heat the corona and produce solar wind occur. At closest approach Solar Probe would zip past the sun at 125 miles per second, protected by a carbon-composite heat shield that must withstand up to 2,600 degrees Fahrenheit and survive blasts of radiation and energized dust at levels not experienced by any previous spacecraft.