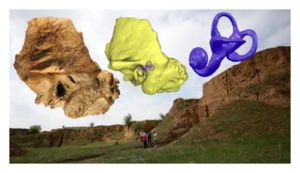 Re-examination of a circa 100,000-year-old archaic early human skull found 35 years ago in Northern China has revealed the surprising presence of an inner-ear formation long thought to occur only in Neandertals.
"The discovery places into question a whole suite of scenarios of later Pleistocene human population dispersals and interconnections based on tracing isolated anatomical or genetic features in fragmentary fossils," said study co-author Erik Trinkaus, PhD, a physical anthropology professor at Washington University in St. Louis.
"It suggests, instead, that the later phases of human evolution were more of a labyrinth of biology and peoples than simple lines on maps would suggest."
The study, forthcoming in the
Proceedings of the National Academy of Sciences
, is based on recent micro-CT scans revealing the interior configuration of a temporal bone in a fossilized human skull found during 1970s excavations at the Xujiayao site in China's Nihewan Basin.
Trinkaus, the Mary Tileston Hemenway Professor in Arts & Sciences, is a leading authority on early human evolution and among the first to offer compelling evidence for interbreeding and gene transfer between Neandertals and modern human ancestors.
His co-authors on this study are Xiu-Jie Wu, Wu Liu and Song Xing of the Institute of Vertebrate Paleontology and Paleoanthropology, Beijing, and Isabelle Crevecoeur of PACEA, Université de Bordeaux.