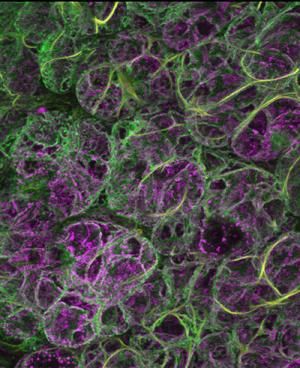 Elvis did it, Michael Jackson did it, and so do the mitochondria in our cells. They shake. While Elvis and Michael shook for decades before loud and appreciative audiences,
mitochondrial oscillations have quietly bewildered scientists for more than 40 years
.
Now, a team of scientists at National Institutes of Health's National Institute of Dental and Craniofacial Research (NIDCR) has imaged mitochondria for the first time oscillating in a live animal, in this case, the salivary glands of laboratory rats. The report, published online today in the journal
Cell Reports
, shows the oscillations occur spontaneously and often in the rodent cells, which leads the researchers
to believe the oscillations almost surely also occur in human cells
.
"The movements could last from tens of seconds to minutes, which was far longer and frequently at a faster tempo than observed previously in cell culture," said Roberto Weigert, Ph.D., an NIDCR scientist and senior author on the study. The mitochondria also appear to
synchronize their movements not only in an individual cell but, quite unexpectedly, into a linked network of oscillators vibrating throughout the tissue
.
"You look through the microscope, and it almost looks like a synchronized dance," said Weigert. "The synchronization, to borrow an old cliché, tells us that we need to differentiate the forest from the trees - and vice versa - when studying mitochondria. It may be that the forest holds the key to understanding how mitochondria function in human health and disease."