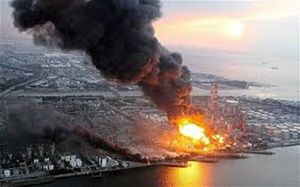 The worst nuclear disaster since the 1986 Chernobyl meltdown never should have happened, according to a new study.
In the peer-reviewed
Philosophical Transactions A of the Royal Society
, researchers Costas Synolakis of the USC Viterbi School of Engineering and Utku Kâno?lu of the Middle East Technical University in Turkey distilled thousands of pages of government and industry reports and hundreds of news stories, focusing on the run-up to the disaster. They found that "arrogance and ignorance," design flaws, regulatory failures and improper hazard analyses doomed the costal
nuclear power plant
even before the tsunami hit.
"While most studies have focused on the response to the accident, we've found
that there were design problems that led to the disaster that should have been dealt with long before the earthquake hit,"
said Synolakis, professor of civil and environmental engineering at USC Viterbi. "Earlier government and industry studies focused on the mechanical failures and 'buried the lead.'
The pre-event tsunami hazards study if done properly, would have identified the
diesel generators
as the lynch pin of a future disaster. Fukushima Dai-ichi was a siting duck waiting to be flooded."