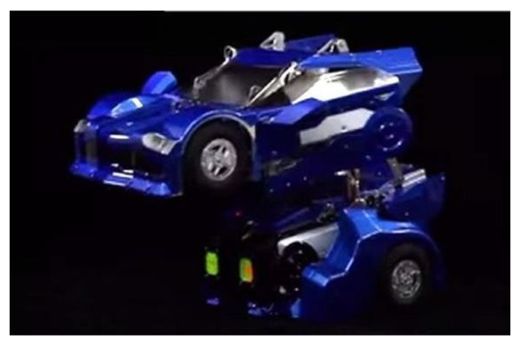 If you are a
Transformer
fan who dreams of someday owning your own transforming robot, Project J-deite will soon make your dream a reality.
The project, which is a collaborative effort between Japan's Brave Robotics, Asratec and Takara Tommy, is the brain child of Kenji Ishida, founder of Brave Robotics.
Ishida's passion for robotics began at the age of 14 and by the time he was 21, he had built his first bi-pedal walking robot. Now, he and his team have developed the J-deite Quarter, a humanoid bi-pedal robot made out of 3D-printed parts.
Introduced last week at the Digital Content Expo in Tokyo, attendees and the media got a glimpse of what J-deite Quarter can do.
The transforming robot stands 1.3 meters (4.3 feet) tall and can walk at a rate of 1 kilometer per hour (0.62 mph).
Geek.com
reports it takes J-deite Quarter approximately 30 seconds to transform from a walking robot to car mode. Once in car mode, it can travel up to ten kilometers per hour (6.2 mph).