APEX reveals hidden star formation in protocluster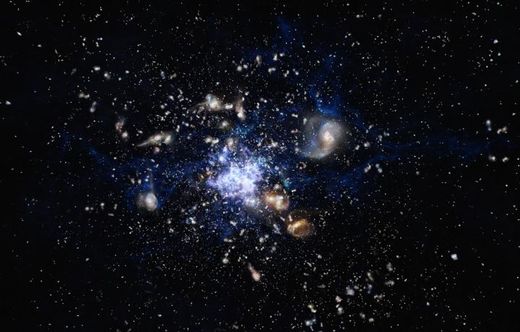 Galaxy clusters are the largest objects in the Universe held together by gravity but their formation is not well understood. The Spiderweb Galaxy (formally known as MRC 1138-262
1
) and its surroundings have been studied for twenty years, using ESO and other telescopes
2
, and is thought to be one of the best examples of a protocluster in the process of assembly, more than ten billion years ago.
But Helmut Dannerbauer (University of Vienna, Austria) and his team strongly suspected that the story was far from complete. They wanted to probe the dark side of star formation and find out how much of the star formation taking place in the Spiderweb Galaxy cluster was hidden from view behind dust.
The team used the LABOCA camera on the APEX telescope in Chile to make 40 hours of observations of the Spiderweb Cluster at millimeter wavelengths - wavelengths of light that are long enough to peer right through most of the thick dust clouds. LABOCA has a wide field and is the perfect instrument for this survey.
Carlos De Breuck (APEX project scientist at ESO, and a co-author of the new study) emphasizes: "This is one of the deepest observations ever made with APEX and pushes the technology to its limits - as well as the endurance of the staff working at the high-altitude APEX site, 5050 meters above sea level."