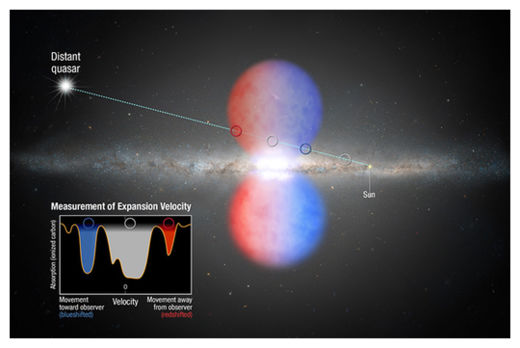 Giant bubbles of gas that erupted from the core of the Milky Way galaxy millions of years ago are expanding out into space at mind-blowing speeds, according to new observations that may help reveal how the strange balloon-like lobes formed.
Scientists using the
Hubble Space Telescope
have clocked the speed of gas bubbles, known as Fermi bubbles, at a whopping 2 million mph (3.2 million km/h). The giant structures now extend 30,000 light-years above and below the plane of the Milky Way.
"A few million years ago, there was a very energetic event at the galactic center, and we're seeing a remnant," lead author Andrew Fox, of the Space Telescope Science Institute in Baltimore, Maryland, said at a press conference this month.
Fox presented the new Hubble observations at the
225th meeting of the American Astronomical Society
in Seattle, revealing the age of the Fermi bubbles.