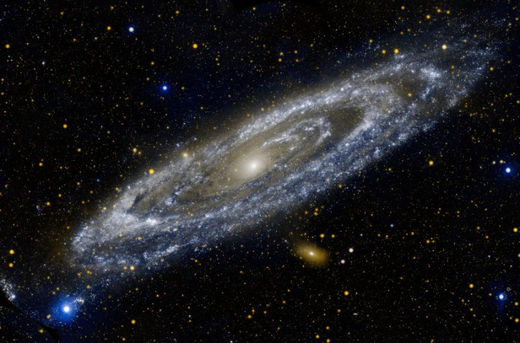 The discovery that many small galaxies throughout the universe do not 'swarm' around larger ones like bees do but 'dance' in orderly disc-shaped orbits is a challenge to our understanding of how the universe formed and evolved.
The finding, by an international team of astronomers, including Professor Geraint Lewis from the University of Sydney's School of Physics, is announced today in
Nature
.
"Early in 2013 we announced our startling discovery that half of the dwarf galaxies surrounding the Andromeda Galaxy are orbiting it in an immense plane" said Professor Lewis. "This plane is more than a million light years in diameter, but is very thin, with a width of only 300,000 light years."
The universe contains billions of galaxies. Some, such as the Milky Way, are immense, containing hundreds of billions of stars. Most galaxies, however, are dwarfs, much smaller and with only a few billion stars.
For decades astronomers have used computer models to predict how these dwarf galaxies should orbit large galaxies. They had always found that they should be scattered randomly.