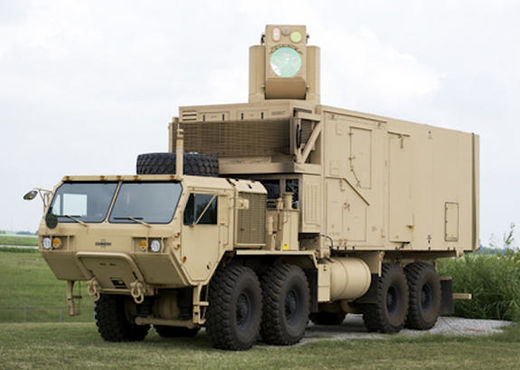 The U.S. military is now one step closer to having a laser gun that can shoot down enemy drones in the blink of an eye.
Boeing recently announced that its mobile laser weapon, dubbed the High Energy Laser Mobile Demonstrator (HEL MD), successfully shot down more than 150 drones, rockets and other mock enemy targets in a third round of tests. The trials prove that the
laser weapon
is reliable and capable of consistently "acquiring, tracking and engaging a variety of targets in different environments," according to Boeing.
The most recent demonstration of the 10-kilowatt, high-energy laser took place at Eglin Air Force Base in Florida. The laser was installed on a military vehicle, making it the first mobile, high-energy laser built and demonstrated by the U.S. Army, according to Boeing.