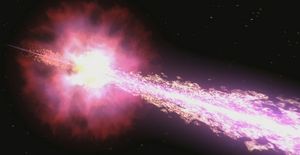 A mysterious blast of light spotted earlier this year near the constellation Leo was actually the brightest gamma-ray burst ever recorded
, and was triggered by an extremely powerful stellar explosion, new research reports.
On April 27, several satellites - including NASA's Swift satellite and Fermi Gamma-ray Space Telescope - observed an
unusually bright burst of gamma radiation
. The explosion unleashed an energetic jet of particles that traveled at nearly the speed of light, researchers said.
"We suddenly saw a
gamma-ray burst
that was extremely bright - a monster gamma-ray burst," study co-author Daniele Malesani, an astrophysicist at the Niels Bohr Institute at the University of Copenhagen in Denmark, said in a statement. "This [was] one of the most powerful gamma-ray bursts we have ever observed with the Swift satellite." [
Top 10 Strangest Things in Space
]
The gamma-ray burst was described in a series of studies published online today (Nov. 21) in the journal
Science.
Gamma-ray bursts, or GRBs, are the most powerful type of explosions in the universe and typically mark the destruction of a massive star. The original stars are too faint to be seen, but the
supernova explosions
that signal a star's death throes can cause violent bursts of gamma radiation, researchers said.