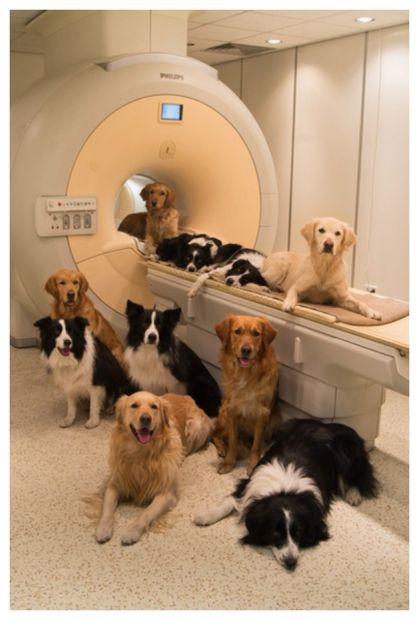 When you hear a friend's voice, you immediately picture her, even if you can't see her. And from the tone of her speech, you quickly gauge if she's happy or sad. You can do all of this because your human brain has a "voice area." Now, scientists using brain scanners and a crew of eager dogs have discovered that dog brains, too, have dedicated voice areas. The finding helps explain how canines can be so attuned to their owners' feelings.
"It's absolutely brilliant, groundbreaking research," says Pascal Belin, a neuroscientist at the University of Glasgow in the United Kingdom, who was part of the team that identified the voice areas in the human brain in 2000. "They've made the first comparative study using nonhuman primates of the cerebral processing of voices, and they've done it with a noninvasive technique by training dogs to lie in a scanner."
The scientists behind the discovery had previously shown that
humans can readily distinguish between dogs' happy and sad barks
. "Dogs and humans share a similar social environment," says Attila Andics, a neuroscientist in a research group at the Hungarian Academy of Sciences at Eötvös Loránd University in Budapest and the lead author of the new study. "So we wondered if dogs also get some social information from human voices."