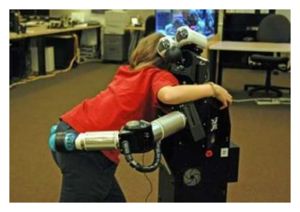 There have been one and a half machine ages already. The first began in the nineteenth century, with machines taking over manual labor. Then in the twentieth century machines began taking over mental labor (they still are). When the third age comes, says one sociologist, we're doomed.
Sociologist
Zeynep Tufekci
has written
an interesting article
in response to the idea that we need robots to do "emotional labor" like caring for children and the elderly. She identifies the third machine age as one where machines take over the realm of emotional labor, whether that's teaching Kindergarten or working as a nurse.
Basically, she's using emotional labor as shorthand to describe a broad range of caretaking professions, especially in heath and medicine, that are currently booming.
Though she worries about handing over this deeply human kind of work to machines, she makes a deeper point about why this third machine age may be the last. Because it continues in the tradition of our previous machine ages, which have all eliminated jobs and created massive unemployment and social unrest.