The process of natural selection can act on human culture as well as on genes, a new study finds. Scientists at Stanford University have shown for the first time that cultural traits affecting survival and reproduction evolve at a different rate than other cultural attributes. Speeded or slowed rates of evolution typically indicate the action of natural selection in analyses of the human genome.
This study of cultural evolution compares the rates of change for structural and decorative Polynesian canoe-design traits.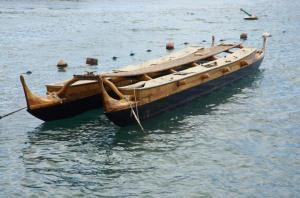 ©iStockphoto/Flemming Mahler
Polynesian outrigger canoe. The Stanford team studied reports of canoe designs from 11 Oceanic island cultures. They evaluated features that could contribute to the seaworthiness of the canoes and thus have a bearing on fishing success or survival during migration or warfare.