NASA's Cassini spacecraft will make an unprecedented "in your face" flyby of Saturn's moon Enceladus on Wed., March 12.
The spacecraft, orchestrating its closest approach to date, will skirt along the edges of huge Old-Faithful-like geysers erupting from giant fractures on the south pole of Enceladus. Cassini will sample scientifically valuable water-ice, dust and gas in the plume.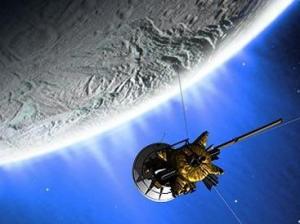 ©NASA/JPL
This is an artist concept of Cassini flying past Enceladus.