If you have an account with online vendor Amazon.com, when you open up the site's home page a short bit of text at the top greets you. It might say, for example, "Hello, Tim. We have recommendations for you." One click will lead you to another page with a list of products related to your past purchases. Although this feature isn't particularly intrusive and only exists on a Web page, are there any examples like this in brick-and-mortar stores?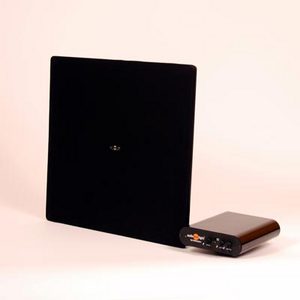 ©Holosonics
An Audio Spotlight system by Holosonics
While we aren't aware of any advertising technologies out there that transmit holographic images into your brain to personally greet you and offer new products, one emerging technique works with sound to capture customers' attention. This technology, developed by Holosonics, has introduced a directional speaker unit that many retail chains are currently testing for use in their stores. Instead of blasting music and announcements from an omnidirectional public-address system, directional loudspeakers -- or Audio Spotlight systems, as Holosonics calls them -- make sound audible only in certain designated locations.