Researchers have developed a new technology that can simultaneously screen thousands of samples of food or water for several dangerous food-borne pathogens in one to two hours.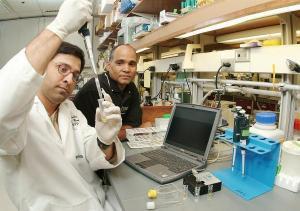 ©Purdue Agricultural Communication photo/Tom Campbell
Purdue researcher Pratik Banerjee, at left, measures fluid as he and professor of food science Arun Bhunia work in the lab. Their technology uses common lab materials to quickly screen food and water samples for several food-borne pathogens and toxins.