Three hot-air balloons dropped asphalt shingles, lumber, sticks, leaves and pine needles onto a north Alabama landfill, so scientists at The University of Alabama in Huntsville could gather data needed to improve tornado warnings.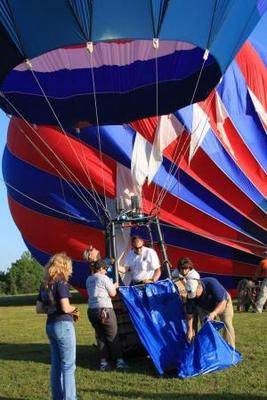 ©Mariana Felix
UA Huntsville graduate students and staff attach a bundle of asphalt shingles to Randy Sedlak's balloon as part of an experiment to help scientists improve tornado forecasting.
The payloads dropped by the balloons were similar to the types of debris thrown into the air by tornados that touch the ground. Scientists at UAHuntsville's Earth System Science Center hope the Doppler radar data collected will be a first step toward programming National Weather Service Doppler radar to recognize tornado debris, so more timely and precise tornado warnings might be issued.