At the cores of many galaxies, supermassive black holes expel powerful jets of particles at nearly the speed of light. Just how they perform this feat has long been one of the mysteries of astrophysics. The leading theory says the particles are accelerated by tightly-twisted magnetic fields close to the black hole, but confirming that idea required an elusive close-up view of the jet's inner throat. Now, using the unrivaled resolution of the National Radio Astronomy Observatory's Very Long Baseline Array (VLBA), astronomers have watched material winding a corkscrew outward path and behaving exactly as predicted by the theory.
"We have gotten the clearest look yet at the innermost portion of the jet, where the particles actually are accelerated, and everything we see supports the idea that twisted, coiled magnetic fields are propelling the material outward," said Alan Marscher, of Boston University, leader of an international research team. "This is a major advance in our understanding of a remarkable process that occurs throughout the Universe," he added.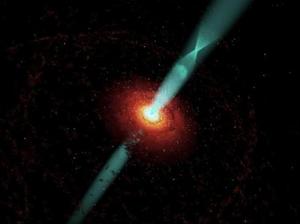 ©Marscher et al., Wolfgang Steffen, Cosmovision, NRAO/AUI/NSF
Artist's conception of region near supermassive black hole where twisted magnetic fields propel and shape jet of particles.