Russia has launched an investigation into why a manned space capsule returned to earth hundreds of kilometers (miles) off course, a space industry official said on Wednesday.
Russian space officials denied a newspaper report the three crew returning from the International Space Station came close to death during Saturday's re-entry.
The Soyuz-TMA capsule with South Korea's first astronaut Yi So-yeon, U.S. commander Peggy Whitson and Russian flight engineer Yuri Malenchenko made a much steeper than usual "ballistic" landing.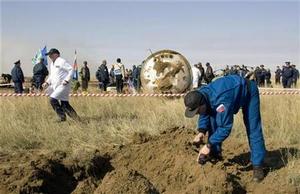 ©REUTERS/Shamil Zhumatov
A ground crew member checks radiation levels near the Soyuz capsule after it landed in northern Kazakhstan April 19, 2008.