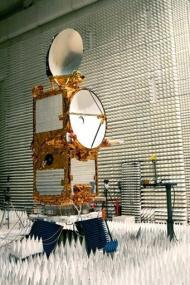 ©AFP
The Jason-2 Satellite
The French-US satellite Jason 2, slated for pre-dawn lift-off Friday from California, will provide precise monitoring of rising sea levels and currents and track the effects of climate change.
Weather permitting, the high-tech oceanography space lab will be launched aboard a Delta 2 rocket from Vandenberg Air Force Base from 0746 GMT, when a nine-minute window of opportunity for the launch opens.
Fifty-five minutes after take-off, it will reach its orbit some 1,335 kilometers (830 miles) above the Earth.
"We are set to fly," NASA launch manager Omar Baez said on the
Spaceflight Now
website.
Jason 2 is programmed to maneuver into the same orbit as its predecessor Jason 1, which was launched in 2001, and eventually replace the older craft.