The field of particle physics is poised to enter unknown territory with the startup of a massive new accelerator--the Large Hadron Collider (LHC)--in Europe this summer. On September 10, LHC scientists will attempt to send the first beam of protons speeding around the accelerator.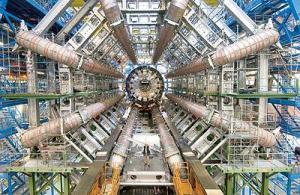 ©CERN
The massive ATLAS detector dwarfs a worker standing in front of it during installation at the Large Hadron Collider. UCSC physicists have been working on the ATLAS project since 1994.
The LHC will put hotly debated theories to the test as it generates a bonanza of new experimental data in the coming years. Potential breakthroughs include an explanation of what gives mass to fundamental particles and identification of the mysterious dark matter that makes up most of the mass in the universe. More exotic possibilities include evidence for new forces of nature or hidden extra dimensions of space and time.
"The LHC is a discovery machine. We don't know what we'll find," said Abraham Seiden, professor of physics and director of the Santa Cruz Institute for Particle Physics (SCIPP) at the University of California, Santa Cruz.