A Stanford scientist has spelled out for the first time the direct links between increased levels of carbon dioxide in the atmosphere and increases in human mortality, using a state-of-the-art computer model of the atmosphere that incorporates scores of physical and chemical environmental processes.
The new findings, to be published in Geophysical Research Letters, come to light just after the Environmental Protection Agency's recent ruling against states setting specific emission standards for this greenhouse gas based in part on the lack of data showing the link between carbon dioxide emissions and their health effects.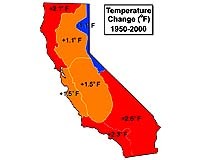 ©Unknown
This study finds that the effects of carbon dioxide's warming are most significant where the pollution is already severe. Given that California is home to six of the 10 U.S. cities with the worst air quality, the state is likely to bear an increasingly disproportionate burden of death if no new restrictions are placed on carbon dioxide emissions.