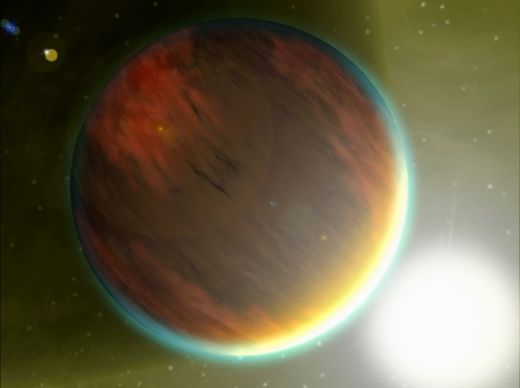 Dry atmospheres of three exoplanets challenge ideas of how planets form.
Scientists searching for worlds outside of the Solar System say that three such planets - distant gas giants that resemble Jupiter - are surprisingly dry.
The atmospheres of these exoplanets, known as 'hot Jupiters', contain
between one-tenth and one-thousandth water vapour than predicted
, measurements from the Hubble Space Telescope show. The findings, published 24 July in
Astrophysical Journal Letters
, are at odds with theories of how planets form.
The study re-analyses observations of the exoplanets HD 189733b, HD 209458b and WASP-12b, which are 20 - 270 parsecs (60 - 870 light years) away from Earth. As each exoplanet crossed in front of its host star, Hubble observed the spectrum of infrared light filtering through the planet's atmosphere. A team led by Nikku Madhusudhan, an astronomer at the University of Cambridge, UK, then used atmospheric models to determine the combination of elements that produced each planet's spectrum.