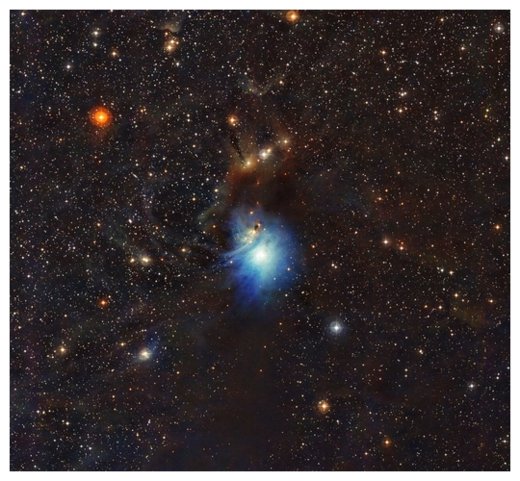 The glowing region in this new image from the
MPG/ESO 2.2-metre telescope
is a
reflection nebula
known as IC 2631. These objects are clouds of cosmic dust that reflect light from a nearby star into space, creating a stunning light show like the one captured here. IC 2631 is the brightest nebula in the
Chamaeleon Complex
, a large region of gas and dust clouds that harbours numerous newborn and still-forming stars. The complex lies about 500 light-years away in the southern constellation of
Chamaeleon
.
IC 2631 is illuminated by the star
HD 97300
, one of the youngest — as well as most massive and brightest — stars in its neighbourhood. This region is full of star-making material, which is made evident by the presence of
dark nebulae
noticeable above and below IC 2631 in this picture. Dark nebulae are so dense with gas and dust that they prevent the passage of background starlight.