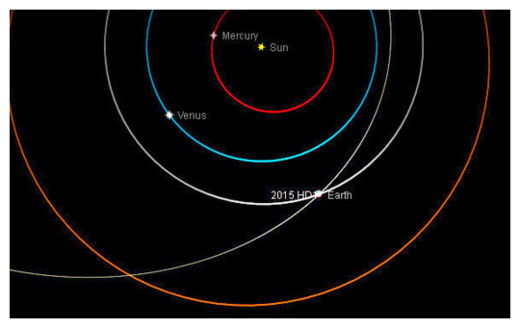 If you wake up in the middle of the night with weird dreams about flying asteroids, I wouldn't be surprised. Around 3 a.m. (CDT) tomorrow morning April 21, a 50-foot-wide asteroid will hurdle just 0.2 lunar distances or 45,600 miles over your bed.
The
Mt. Lemmon Survey
, based in Tucson, Arizona, snagged the space rock Saturday. 2015 HD1 is about as big as a full grown T-rex through not nearly as scary, since it will safely miss Earth ...
but not by much.
Geostationary satellites
, used for global communications, weather forecasting and satellite TV, are parked in orbits about 22,300 miles above the Earth. 2015 HD1 will zip by at just twice that distance, putting it in a more select group of extremely close-approaching objects. Yet given its small size, even if it were to collide with Earth, this dino-sized rock would probably break up into a shower of meteorites.
Lucky for all of us, astronomers conducting photographic surveys like the one at Mt. Lemmon rake the skies every clear night, turning up a dozen or more generally small, Earth-approaching asteroids every month. None yet has been found on a collision course with Earth, but many pass within a few lunar distances.