Those in the Australian outback and parts of the Pacific Ocean will be able to view an annular eclipse of the sun - in which a ring of the sun's surface appears around the body of the moon's silhouette - on the morning of May 10, 2013 at shortly after 8 a.m. local time. About 95% of the solar disk will be covered, and yet this is considered a partial eclipse. At no time will the sky darken, or stars pop into view. The remaining 5% of sun is so bright that those in the right place on Earth to see the eclipse will need to look at it through specially filtered glasses for the entire event. View the illustrations below to learn more about the May 10, 2013 annular solar eclipse.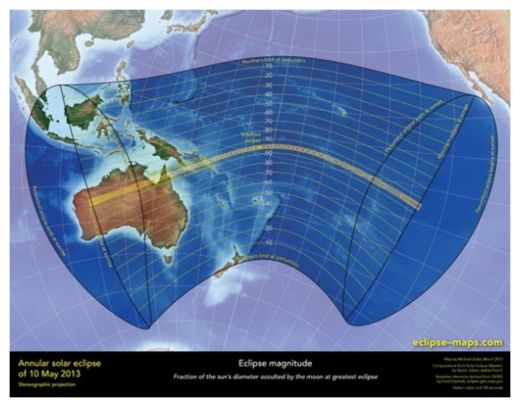 The May 10 annular eclipse as seen in Australia.
The annular phase will start in extreme northwest Australia in the state of Western Australia, where some veteran eclipse chasers will try to see it at sunrise. The 300-km-wide path will include Tennant Creek, about 500 km north of Alice Springs in the Northern Territory. The path of annularity will leave the Australian continent well north of Cairns, where tens of thousands of people saw a total solar eclipse in November, and even north of Cooktown; Cliff Island and Flinders Group National Parks will be in the zone. Annularity will last about 3 minutes at Tennant Creek and about 4-1/2 minutes at the centerline, about 50 km north of Tennant Creek. The path of annularity will leave Queensland with about 4-3/4 minutes of annularity.