Honeybees somehow manage to efficiently collect a lot of nectar with limited resources and no central command - after all, the queen bee is too busy laying eggs to oversee something as mundane as where the best nectar can be found on any given morning. According to new research from the Georgia Institute of Technology, the swarm intelligence of these amazingly organized bees can also be used to improve the efficiency of Internet servers faced with similar challenges.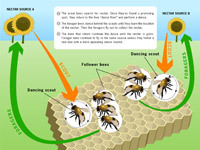 ©Georgia Institute of Technology
Honeybees maximize efficiency with dance communication. Click on image for larger version.