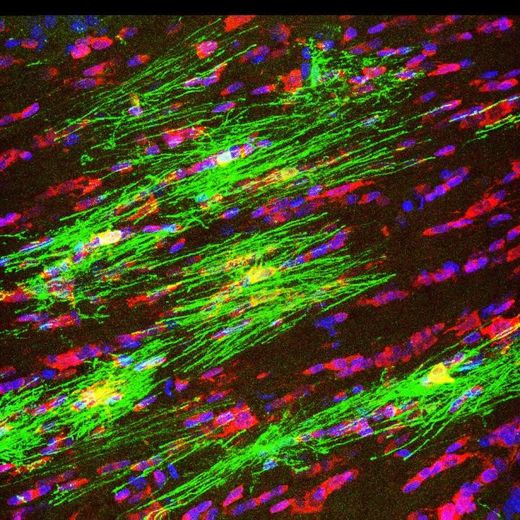 New evidence of myelin's essential role in learning and retaining new practical skills, such as playing a musical instrument, has been uncovered by UCL research. Myelin is a fatty substance that insulates the brain's wiring and is a major constituent of 'white matter'. It is produced by the brain and spinal cord into early adulthood as it is needed for many developmental processes, and although earlier studies of human white matter hinted at its involvement in skill learning, this is the first time it has been confirmed experimentally.
The study in mice, published in
Science
today, shows that
new myelin must be made each time a skill is learned later in life and the structure of the brain's white matter changes during new practical activities by increasing the number of myelin-producing cells
. Furthermore, the team say once a new skill has been learnt, it is retained even after myelin production stops. These discoveries could prove important in finding ways to stimulate and improve learning, and in understanding myelin's involvement in other brain processes, such as in cognition.
For a child to learn to walk or an adult to master a new skill such as juggling, new brain circuit activity is needed and new connections are made across large distances and at high speeds between different parts of the brain and spinal cord. For this, electrical signals fire between neurons connected by "axons" -- thread-like extensions of their outer surfaces which can be viewed as the 'wire' in the electric circuit. When new signals fire repeatedly along axons, the connections between the neurons strengthen, making them easier to fire in the same pattern in future. Neighbouring myelin-producing cells called oligodendrocytes (OLs) recognise the repeating signal and wrap myelin around the active circuit wiring. It is this activity-driven insulation that the team identified as essential for learning.