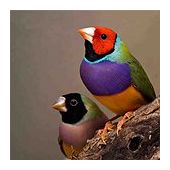 A long-standing theory that excessive conflict is bad for society has been demonstrated in an animal population, researchers report.
Aggressive and peaceful Gouldian finches can live together as long as the aggressors are not too successful, suggest the findings which are based on game theory.
The research is published today in the
Proceedings of the Royal Society B
.
Game theory is a branch of mathematics used to model the effects of different strategies through a series of games. It's widely used in economics. In the 1970s it was applied to biology in the form of the 'hawk-dove game' to explain why it is that animals don't fight all the time.
In this game, 'hawks' have a strategy of aggression while 'doves' have a more peaceful strategy. According to the theory, overall conflict is minimised because while hawks fight for a resource, doves backs down and let them have it.
"It means those individuals are avoiding conflict and that's good for both of them," says Associate Professor Simon Griffith, an evolutionary biologist at
Macquarie University
.
While this is an advantage to an individual hawk it may backfire in the long term. This is because hawks are generally too busy wearing themselves out fighting to look after themselves or the next generation.
"There is a trade off between how much time you spend fighting and how much time you spend at your nest looking after your chicks," says Griffith.
According to the hawk-dove theory, there is an optimal ratio of hawks to doves that allows for the fact that hawks aren't good at rearing chicks.