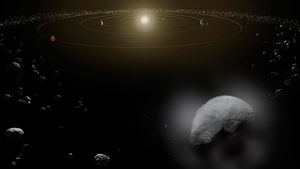 A 1,000 meter-wide asteroid is heading towards Earth this week - and its course will reach its closest point to our planet on Friday, according to NASA.
Traveling at a speed exceeding 37,000 kph, the 2014-YB35 asteroid
is set to
approach Earth from a distance of 4,473,807 km - some 11.7 times further away than the moon - according to NASA's Jet Propulsion Laboratory.
But should the asteroid's orbit be closer, the impact of collision could be devastating - and trigger earthquakes and tsunamis, as well as climate changes. For an asteroid of its size, it would not be difficult to beat the Tunguska Event of 1908, which left some 80 million trees knocked down in Siberia and sent a shock wave measuring 5.0 on the Richter scale.
"Smaller scale events like Tunguska are absolutely a real risk, largely they are undiscovered and so we are unprepared," Bill Napier, professor of astronomy at the University of Buckinghamshire, told the
Daily Express
. "With something like YB35, we are looking at a scale of global destruction, something that would pose a risk to the continuation of the planet. These events are however very rare, it is the smaller yet still very damaging impacts which are a very real threat."