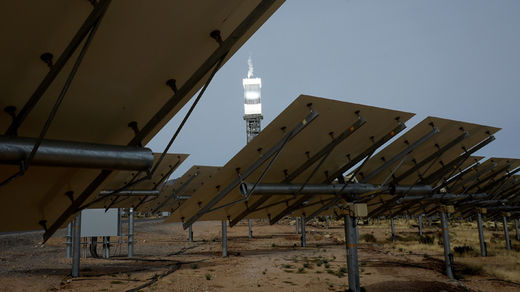 Next generation solar plants are generating more clean energy than ever before, but one in California is torching birds as they fly through the facility's powerful rays, raising concern over a new plant that could prove four times more dangerous to birds.
According to the
Associated Press
, workers at the BrightSource Energy plant in the Mojave Desert even have a nickname for the singed birds, which burn up into smoke when they fly into heavily concentrated sun rays: "Streamers." When US Fish and Wildlife officials observed the situation in 2013, they witnessed an average of one "streamer" every couple of minutes.
With estimates ranging from 1,000 dead birds a year to 28,000, the agency is seeking an official death toll for one year of operation at the plant. BrightSource is responsible for delivering the lower number, while the higher one was projected by the Center for Biological Diversity. For now, the agency is also calling on the committee in charge of approving new projects to delay BrightSource's latest application.
Opened in February, the plant has been powering 140,000 homes with the electricity it generates. The facility is composed of three 40-story towers, which produce steam and rotate turbines after the water contained inside is boiled by the solar rays reflected onto it by some 300,000 mirrors.
Speaking with the AP, Garry George of the California chapter of the Audubon Society called the bird deaths "alarming."