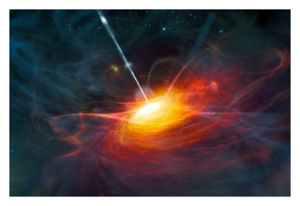 Do you believe in free will? Are people able to decide their own destinies, whether it's on what continent they'll live, who or if they'll marry, or just where they'll get lunch today? Or are we just the unwitting pawns of some greater cosmic mechanism at work, ticking away the seconds and steering everyone and everything toward an inevitable, predetermined fate?
It might sound like the realm of pure philosophy but
MIT
researchers are actually looking to get to the bottom of this age-old debate once and for all, using some of the most distant and brilliant objects in the Universe.
Rather than the ancient musings of Plato and Aristotle, researchers at MIT were trying to determine how to get past a more recent conundrum in physics:
Bell's Theorem
. Proposed by Irish physicist John Bell in the 1964, the principle attempts to come to terms with the behavior of "entangled" quantum particles separated by great distances but somehow affected simultaneously and instantaneously by the measurement of one or the other - previously referred to by Einstein as "spooky action at a distance."
The problem with such spookiness in the quantum universe is that it seems to violate some very basic tenets of what we know about the macroscopic universe, such as information traveling faster than light. (A big no-no in physics.)
(Note: actual information is not transferred via quantum entanglement, but rather it's the transfer of
state
between particles that can occur at thousands of times the speed of light.)