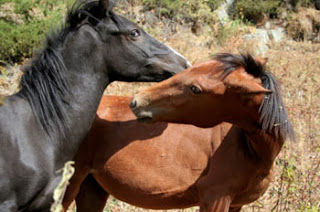 Forget neighing! Horses talk with their ears!
Horse whisperers take note: If you want to better understand your equine friends, then study their ears.
A study has revealed that just like humans, horses read each other's faces. But, unlike us, they gain important information by specifically examining the ears. It seems that when a horse is interested in something, it pricks up its ears and swivels them towards whatever has caught its attention. This movement is so important that, if its ears are covered up, another horse struggles to know what it is thinking.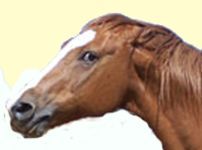 The finding comes from University of Sussex researchers who studied what makes one horse pay attention to another horse. They began by taking photos of a horse looking to one side at bucket of food. They then placed a picture on a post between two buckets of food, led another horse into the barn and watched which bucket it went to.
They almost always took their cue from the pictured animal and chose the bucket it seemed to be looking at. However, when the photo was manipulated, so that the horse's eyes were covered up, the results were no better than chance.
This suggests the horse's gaze conveys important information.
More surprisingly, covering up the ears had the same effect - meaning they are also key to communication. Researcher Jennifer Wathan (CORR), a PhD student, said: 'Our study is the first to examine a potential cue to attention that humans do not have: the ears.