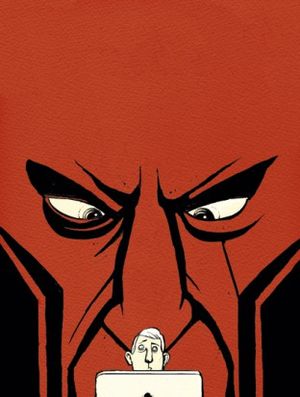 You probably have no idea how much of yourself you have given away on the internet, or how much it's worth. Never mind Big Brother, the all-seeing state; the real menace online is the Little Brothers - the companies who suck up your personal data, repackage it, then sell it to the highest bidder. The Little Brothers are answerable to no one, and they are every-where.
What may seem innocuous, even worthless information - shopping, musical preferences, holiday destinations - is seized on by the digital scavengers who sift through cyberspace looking for information they can sell: a mobile phone number, a private email address. The more respectable data-accumulating companies - Facebook, Google, Amazon - already have all that. Even donating money to charity by texting a word to a number means you can end up on databases as a 'giver' - and being inundated with phone calls from other noble causes. Once your details end up on a list, you can never quite control who will buy them.
As you surf the web, thousands of 'third-party cookies' track your browsing habits. Then there's your smartphone, which can log information every waking and sleeping moment. Quintillions - yes that really is a number - of pieces of data are being generated by us, about us. Look at Facebook. In a typical week, its users upload 20 billion items of content - pictures, names, preferences, shopping habits and other titbits: all information that can be stored and later employed to help advertisers.
It is perfectly legal for companies to spy on us, and it is very lucrative. Some analysts estimate we're each giving away up to £5,000 worth of data every year. A worldwide industry has emerged over the past decade that is dedicated to finding new ways of extracting and analysing this bounty. 'Data brokers' operate enormous clearing houses which buy, analyse and then sell online and offline data. One of the largest, Acxiom Corporation, is believed to hold information on about 500 million consumers around the world, and has annual sales of more than $1 billion. Many of the big social media companies, including Facebook, work closely with these data brokers - cross-referencing your status updates against postcodes or loyalty-card data from shops. From thousands of fragments, they can build a remarkably detailed picture of you.
A little further down the chain, companies are scooping up your tweets or Facebook posts, analysing them and selling on the results for a hefty fee: this week Sony paid $200 million for a company that does exactly that. This doesn't just affect exhibitionists on Facebook; if you've completed the electoral register, your home address could be only a click away for anyone vaguely interested.