Each fluorescent point of light making up the multicolored rings in this image is an individual human embryonic cell in the early stages of development. These cells are the descendants of human embryonic stem (ES) cells, which have the potential to become any of roughly 200 cell types in the human body.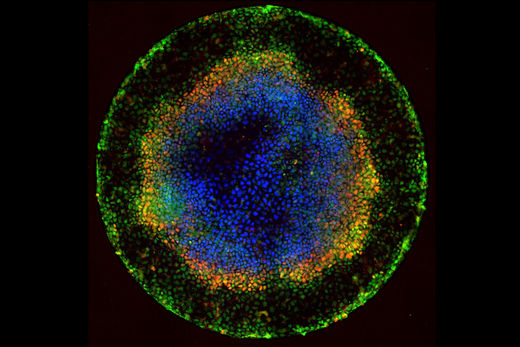 During normal embryonic development, ES cell descendants specialize, migrate and organize into distinct layers in a process called gastrulation. These layers then shape and fold into structures that give rise to different tissues, organs and limbs. Scientists seeking to understand the molecular cues responsible for early embryonic patterning have focused on finding the right mix of chemical signals, called growth factors, that would allow them to replicate the process in the lab. But a very different approach by a team of National Institutes of Health-funded developmental biologists and physicists at Rockefeller University indicates that a critical element is geometrical.
"Thanks to our diverse scientific perspectives, we were in a good position to realize that geometry could be an important factor," says developmental biologist Ali Brivanlou, who led the team with physicist Eric Siggia. A former postdoctoral researcher trained in theoretical physics, Aryeh Warmflash, also played a big role.