This week's full Moon is the biggest full Moon of 2007. It's
no illusion
. Some full Moons are genuinely larger than others and Thursday night's will be a whopper. Why? Read the answer below.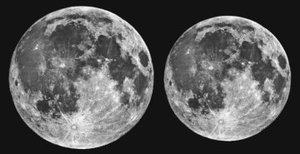 ©Unknown
Left: A big, bright perigee Moon. RIght: A lesser apogee Moon.
The Moon's orbit is an ellipse with one side 30,000 miles closer to Earth than the other. The full Moon of Oct. 25-26 is located on the near side, making it appear as much as 14% bigger and 30% brighter than lesser full Moons we've seen earlier in 2007.