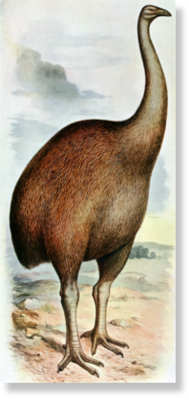 Māori Studies staff and students from Victoria University of Wellington have excavated hundreds of moa bones from a central North Island site where few moa remains were known to exist.
The rare discovery was part of a field trip dubbed 'Operation Moa Hunt' in April, run by Victoria's Te Kawa a Māui, School of Māori Studies.
The bones belong to about 50 individual moa birds and were excavated from an area 3m2 and 50cm deep, on a farm south of Taihape.
Initial identifications indicate the bones come from mainly two moa species, the North Island giant moa and the little bush moa,
and are at least 1800 years old.
The School's Kairuruku/Research Associate Dr Bruce McFadgen and Ahonuku/Associate Professor Peter Adds, both trained archaeologists, led the students on the weekend-long field trip, along with Te Papa Vertebrate Curator Alan Tennyson.
Mr Tennyson says the find has tripled the number of moa bones found on the volcanic plateau held in public museums.