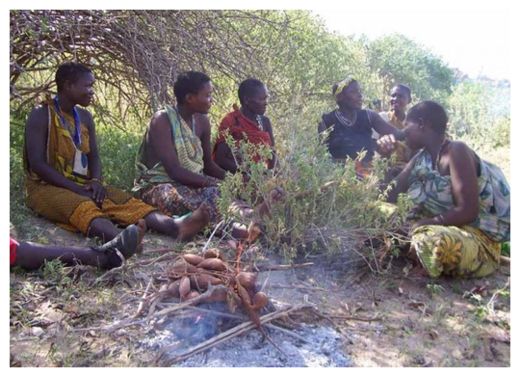 After taking an antibiotic or catching an intestinal bug, many of us belt down probiotic drinks to restore the "natural balance" of organisms in our intestines. Probiotics are one of the fastest growing products in the food industry, now added to yogurts, drinks, and baby food. Yet, not everyone needs them to stay healthy. A new study of the gut bacteria of hunter-gatherers in Africa has found that they completely lack a bacterium that is a key ingredient in most probiotic foods and considered healthy. What's more, the Hadza don't suffer from colon cancer, colitis, Crohn's, or other diseases of the colon that are found in humans eating modern diets in Western nations.
The new study is the first to report on the gut bacteria of hunter-gatherers, who hunt and forage for most of their foods, just as our ancestors did before the invention of agriculture 10,000 years ago. Until now, studies of gut bacteria have focused on people who live in industrialized nations, many of whom eat diets high in sugar, salt, and fat. These diets have shifted the type of bacteria in our guts, known as the
microbiome
. Gut bacteria respond rapidly to changes in their host's diet, and humans who live in rural areas and eat fewer processed foods have more diverse microbiomes. Conversely,
researchers also have found an association between less diversity in the microbiome and diseases of the colon
, such as Crohn's disease and colon cancer.