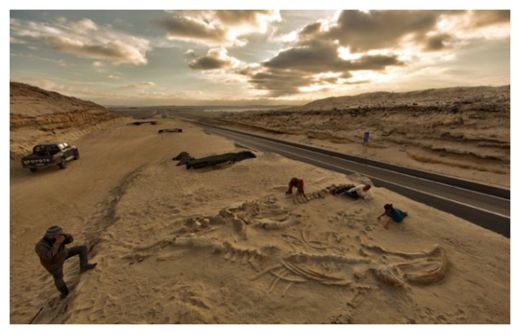 In 2010, workers widening a remote stretch of highway near the northwestern coast of Chile
uncovered a trove of fossils
, including the skeletons of at least 30 large baleen whales. The fossils - which may be up to 9 million years old - are the first definitive examples of ancient mass strandings of whales, according to a new study. The work also fingers a possible culprit.
"This is a fantastic paper," says Jeremy Goldbogen, a marine biologist at Stanford University's Hopkins Marine Station in Pacific Grove, California, who wasn't involved in the study. The new findings "are revealing something that we didn't know anything about," he notes. "This is an awesome snapshot of deep time."
The area where the fossils were found has long been known locally as Cerro Ballena ("Whale Hill" in Spanish) due to other remains found there years ago, says Nicholas Pyenson, a vertebrate paleontologist at the Smithsonian Institution's National Museum of Natural History in Washington, D.C. Two of the species that Pyenson and his colleagues discovered in the mix - an aquatic sloth and a particular type of shark - suggest that the fine-grained material that entombed the fossils was deposited as sediment on a tidal flat sometime between about 6.5 million and 9 million years ago, when the site sat on the coast of a south-facing bay.