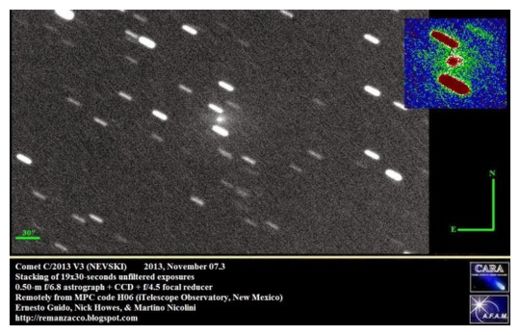 Is 2013 truly the "Year of the Comet?" Perhaps "Comets" might be a better term, as no less than
five
comets brighter than +10
th
magnitude grace the pre-dawn sky for northern hemisphere observers.
Comet
C/2013 V3 Nevski
has just
brightened up
6 magnitudes - just over a 250-fold increase in brightness - and now sits at around magnitude +8.8. Comet Nevski was just recently discovered by Vitali Nevski using a 0.4 metre reflecting telescope 12 days ago on November 8
th
. If that name sounds familiar, it's because Nevski discovered the comet from the Kislovodsk observatory located near Kislovodsk, Russia which is part of the International Scientific Optical Network survey which located comet ISON last year. In fact, there was some
brief controversy
early on in its discovery that Comet C/2012 S1 ISON should have had the moniker Comet Nevski-Novichonok.
At the time of discovery, Comet Nevski appeared to be nothing special: shining at magnitude +15.1, it was well below our +10 magnitude limit for consideration as "interesting," and was projected to linger there for the duration of its passage through the inner solar system. About a dozen odd such comet discoveries crop up per year, most of which give astronomers a brief pause as the orbit and size of the comet become better known, only to discern that they're most likely to be nothing extraordinary.