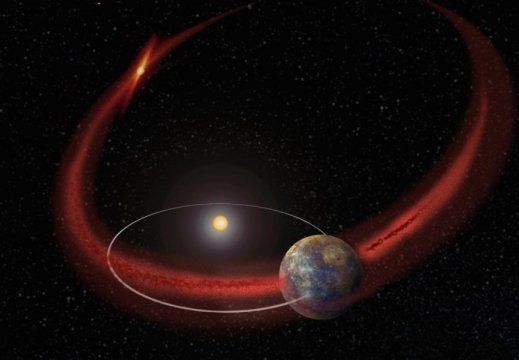 The planet Mercury is being pelted regularly by bits of dust from an ancient comet, a new study has concluded. This has a discernible effect in the planet's tenuous atmosphere and may lead to a new paradigm on how these airless bodies maintain their ethereal envelopes.
The findings are to be presented at the annual Meeting of the Division of Planetary Sciences of the American Astronomical Society at National Harbor, Maryland, this week, by Apostolos Christou at the Armagh Observatory in Northern Ireland, Rosemary Killen at NASA's Goddard Space Flight Center in Greenbelt, Maryland, and Matthew Burger of Morgan State University in Baltimore, working at Goddard.
Earthlings are no strangers to the effects of cometary dust on a planet and its environment. On a clear, moonless night we witness the demise of countless such dust grains as they burn up in the Earth's atmosphere in the form of meteors or "shooting stars." At certain times of the year, their numbers increase manyfold, creating a natural fireworks display: a meteor shower. This is caused by the Earth passing through a stream of dust particles left behind by certain comets.
One of the most well-known showers, the August Perseids, originates from comet Swift-Tuttle, which was last seen back in 1992 and won't be back in the inner solar system for another century. But Earth is not the only planet in the solar system to sweep up cometary dust in this fashion. Last year, comet Siding Spring came within 100,000 miles of Mars, loading its upper atmosphere with several tons of cometary material. The aftermath was recorded by instruments onboard several Mars-orbiting spacecraft such as NASA's
Mars Atmosphere and Volatile Evolution
mission and ESA's
Mars Express
.