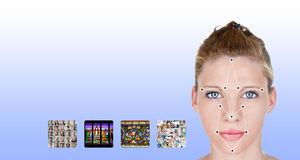 Dozens of churches in the United States and around the world are using facial recognition software to track their members, according to the company that's selling them the software to do it.
Moshe Greenshpan is the founder and CEO of
Skakash
, an
Israeli company that aims to provide churches with a program called
Churchix
to scan everyone who walks through their holy halls.
The program was covered in a
VentureBeat interview
with Greenshpan back in February, and enjoyed a string of recent coverage in European outlets like
Der Spiegel
and
The Times
. It sounded wild, so I called Greenshpan to find out more.
But, when I asked Greenshpan in our interview if he could provide the names of some of his clients so that I could speak with them about their use of facial recognition, he was reticent—a theme that would develop throughout our conversation as he refused to confirm numerous details about his operation.
"I can tell you in general that churches also don't like to be described as privacy invaders," Greenshpan told me.
"Most of them would like to keep this confidential.
We try to encourage churches to make Churchix more visible, so it will become like a checkpoint for registration. Of course, so far we haven't had great success in doing that."