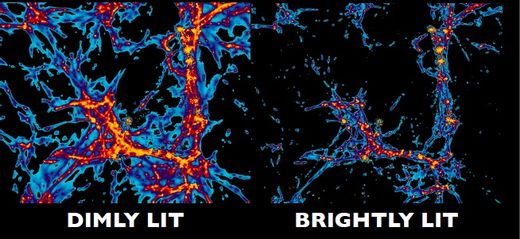 Something is amiss in the Universe. There appears to be an enormous deficit of ultraviolet light in the cosmic budget.

Comment: Not exactly. What the paper is about is that the actual models of intergalactic medium do not explain what is observed. Something is amiss with the models, the Universe is what it is.


The vast reaches of empty space between galaxies are bridged by tendrils of hydrogen and helium, which can be used as a precise "light meter." In a recent study published in
The Astrophysical Journal Letters
, a team of scientists finds that the light from known populations of galaxies and quasars is not nearly enough to explain observations of intergalactic hydrogen.
The difference is a stunning 400 percent.
"It's as if you're in a big, brightly-lit room, but you look around and see only a few 40-watt lightbulbs," noted Carnegie's Juna Kollmeier, lead author of the study. "Where is all that light coming from? It's missing from our census."
Strangely, this mismatch only appears in the nearby, relatively well-studied cosmos.
When telescopes focus on galaxies billions of light years away (and therefore are viewing the universe billions of years in its past), everything seems to add up.
The fact that this accounting works in the early universe but falls apart locally has scientists puzzled
.

Comment: In other words, the models work fine for the less well-studied cosmos.