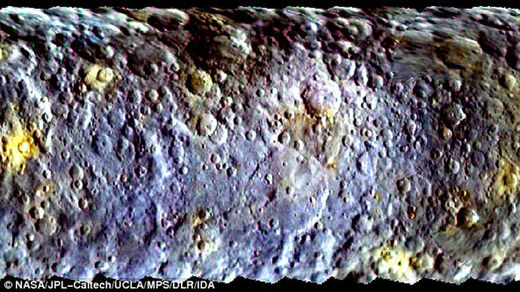 Ceres is puzzling astronomers with giant bright-white spots behaving very differently from each other in infrared light. As the enigma around the anomaly grows, NASA now says their origins and properties are very different.
The latest infrared mapping of Ceres shows a diverse mix of climatic and geological phenomena, which can only be explained once the current NASA probe, Dawn, gets closer to its target. Now, the month-old infrared photographs of bright spots, released April 13 in Vienna
at a meeting
of the European Geosciences Union, are leading to further speculation as to the rock's history and the presence of water on it.
On visible light images taken beforehand, the two anomalous spots appear bright white, leading to speculations about so-called cryovolcanoes.
But the newly-released infrared photos show that the spots have completely differing thermal properties.
"This dwarf planet was not just an inert rock throughout its history. It was active, with processes that resulted in different materials in different regions. We are beginning to capture that diversity in our color images," Chris Russell, principal investigator for the Dawn mission, says.
And NASA's Dawn probe, which is currently about 28,000 miles (45,000km) away, proves there's more to Ceres than meets the eye.