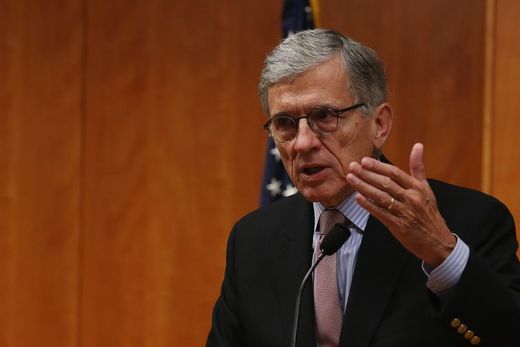 Tom Wheeler, the chairman of the Federal Communications Commission, just announced new regulations that will provide strong protections for network neutrality.
The proposal makes use of a controversial legal maneuver called reclassification, which opens the door to regulating internet access as a public utility.
Most Republicans oppose reclassification, and they're working on legislation that would establish limited network neutrality rules without reclassifying.
The FCC is scheduled to vote on the proposal on February 26.
The politics of network neutrality have shifted dramatically
Wheeler has now chosen a legal strategy that he saw as too radical just nine months ago. His original network neutrality proposal, which he released last May, tried to protect network neutrality, the idea that all internet content should be treated equally, without treating internet access as a public utility. Critics argued that these rules were too weak, leaving a big loophole that would allow broadband providers to engage in exactly the kind of discriminatory behavior that network neutrality rules are supposed to prevent.
Network neutrality advocates wanted to regulate broadband providers as public utilities, a step known to insiders as
"reclassification."
They mounted a successful lobbying campaign, submitting millions of comments to the agency urging a stronger stance. They gained an important ally in November when President Barack Obama
endorsed reclassification
.
The growing momentum for reclassification spooked Congressional Republicans and their allies in the telecom industry. They worry that reclassification could open the internet up to intrusive regulation in the future. In January, two key Republican leaders
announced plans
to draft legislation that would protect network neutrality but take reclassification off the table. But so far that proposal has gotten a
cold reception
from Democrats, who believe they can get what they want on the issue without GOP help.