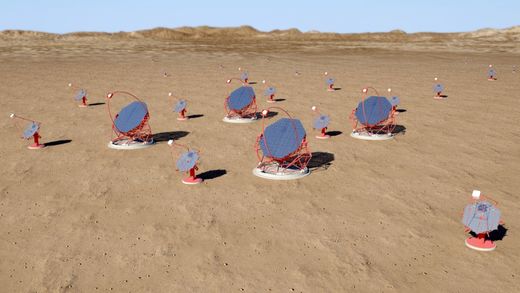 Sites in Spain and Chile have been chosen to host the
Cherenkov Telescope Array
(CTA) - a huge, very high energy gamma-ray observatory
10 times more sensitive than existing instruments
, which will study supernova explosions, binary star systems and active galactic nuclei. Astronomers working on the project expect they will get approval at the end of the year to start building the arrays. It is hoped that the
CTA will begin taking data at both locations by the end of 2020, with full operations by 2023
.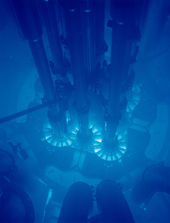 High-energy gamma rays are generated in the most energetic events in the universe, and studying these messengers can reveal important information about the violent processes that created them.
When a gamma ray interacts with a particle in the Earth's atmosphere, it produces a shower of lower-energy particles
.
These particles travel through the atmosphere faster than the speed of light in the atmosphere, creating a cone of blue light akin to a sonic boom
. Telescopes on the ground collect this Cherenkov radiation, which scientists then analyse to determine the energy of the original gamma ray and from what direction it came.
On IOP Physicsworld, a user cdib posted the following comment to this article:

The Cherenkov radiation itself is actually visible light [blue], so it travels at the speed of light in the medium (air in this case). What must travel faster than the speed of light in air is the charged particle that generates the Cherenkov radiation. Typically these charged particles are electrons.
The CTA will consist of two arrays. The smaller array - consisting of 15 telescopes 12 m in diameter and four at 23 m - will study the northern sky from the Spanish island of La Palma, which is off the Atlantic coast of North Africa. The larger observatory will have 70 telescopes at 4 m diameter, 25 at 12 m and four at 23 m. It will look toward the southern sky from Paranal in Chile's Atacama Desert, and the first few small telescopes are likely to be deployed to the Chile site in mid-2016.