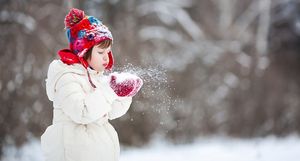 Snow joke — the Scots language has more words for snow than Inuit languages, a total of 421 including "snaw", "sneesl" and "skelf", researchers in Glasgow said Wednesday.
Other terms used to describe the white stuff that often coats Scotland's landscape during winter include "flindrikin" (a light snow shower), "feefle" (swirling snow) and "spitters" (small flakes of snow).
The finding came from researchers at Glasgow University who are compiling the first ever thesaurus cataloging every recorded word in the tongue that has been spoken in Scotland for hundreds of years.
Part of it is being put online for the first time Wednesday, starting with the sections covering snow and sport. The latter includes 369 words relating to the game of marbles.
"Weather has been a vital part of people's lives in Scotland for centuries," said Susan Rennie, a Glasgow University lecturer.