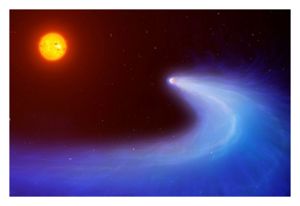 Astronomers have discovered a spectacular comet-like tail around a distant planet the size of Neptune.
The findings reported in the journal
Nature
, could provide new clues as to how some rocky terrestrial planets are formed.
"This is truly incredible, it's the largest atmosphere ever detected around a planet," says one of the study's authors Dr Vincent Bourrier of the
University of Geneva Observatory
.
"This cloud of hydrogen, which has escaped the planet, is forming a comet like tail trailing behind the planet."
The planet, named Gliese 436b, is in a very close orbit around the small red dwarf star Gliese 436, which is less than half the size of the Sun. The system is located about 33 light-years away in the constellation of Leo.
Earlier studies of Gliese 436b have suggested it has a small rocky core, a mostly water ice mantle, and a thin outer envelope of hydrogen and helium gas. Its size and estimated daytime surface temperature of about 530°C led scientists to classify Gliese 436b as a 'warm Neptune'.
The planet takes just 2.64 Earth days to orbit its host star, circling it at a distance of only about four million kilometres, 15 times closer than Mercury's orbit around the Sun. Because it is so close, the star irradiates the planet's atmosphere, causing it to heat up and expand.
However, the star's stellar winds aren't powerful enough to blow away Gliese 436b's atmosphere. Bourrier and colleagues used an ultraviolet spectrometer aboard the Hubble Space Telescope to analyse and map the chemical signature of the planet's atmosphere.
During three separate Hubble observations of the planet as it transits or moves in front of its host star as seen from Earth, the scientists detected a hugely extended envelope of hydrogen gas surrounding and trailing out far behind the planet.
"Because of the low ionisation from the star, the gas can stay for a long time, trailing for extended distances behind the planet," says Bourrier.
The giant envelope is large enough to cover around 56 per cent of the star's surface.