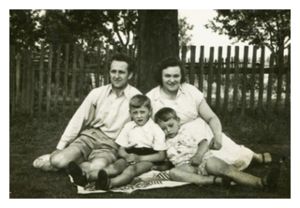 The days of a traditional 1950s family where Dad goes off to be the breadwinner and Mom stays home to take care of the kids is long gone, replaced by a "peacock's tail" of various family unit structures, University of Maryland sociologist Philip Cohen claims in a new report prepared for the Council on Contemporary Families (CCF).
In his paper "
Family Diversity is the New Normal for America's Children
," Cohen reports that only 22 percent of children currently live in a married male-breadwinner family, while 23 percent are cared for by a single mother. Seven out of every 100 live with a parent cohabitating with an unmarried partner, while six live with either a single father or grandparents.
The single largest group of children (34 percent) lives with dual-earner married parents, the study said, but that group represents just slightly over one-third of the whole. That is a far cry from six decades ago, when 65 percent of all kids under the age of 15 were living with a family of married parents where only the father was part of the workforce.
"Different is the new normal. There hasn't been the collapse of one dominant family structure and the rise of another. It's really a fanning out into all kinds of family structures," Cohen told Brigid Schulte of
The Washington Post
on Thursday. "The big story, really, is the decline of marriage. That's what's really changed."