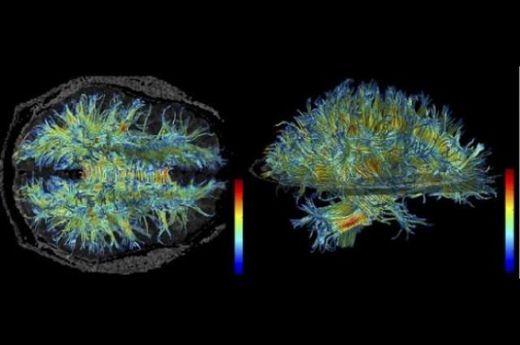 Brain scientists have long believed that older people have less of the neural flexibility (plasticity) required to learn new things. A new study shows that older people learned a visual task just as well as younger ones, but the seniors who showed a strong degree of learning exhibited plasticity in a different part of the brain than younger learners did.
A widely presumed problem of aging is that the brain becomes less flexible -- less plastic -- and that learning may therefore become more difficult. A new study led by Brown University researchers contradicts that notion with a finding that plasticity did occur in seniors who learned a task well, but it occurred in a different part of the brain than in younger people.
When many older subjects learned a new visual task, the researchers found,
they unexpectedly showed a significantly associated change in the white matter of the brain
. White matter is the the brain's "wiring," or axons, sheathed in a material called myelin that can make transmission of signals more efficient. Younger learners, meanwhile, showed plasticity in the cortex, where neuroscientists expected to see it.
"We think that the degree of plasticity in the cortex gets more and more limited with older people," said Takeo Watanabe, the Fred M. Seed Professor at Brown University and a co-author of the study published in Nature Communications. "However, they keep the ability to learn, visually at least, by changing white matter structure."