"Wizard of Oz" heroine Dorothy only had to click her ruby red slippers together and they would spirit her home to Kansas.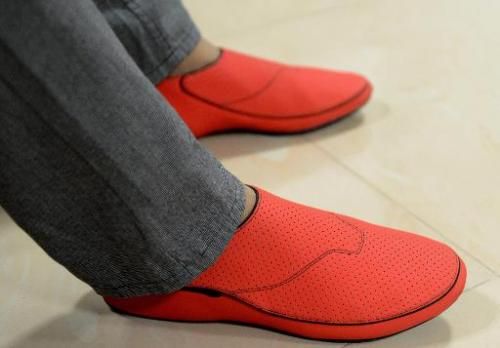 Now, an Indian high-tech start-up is promising to do the same in real life with a new, GPS-enabled smart sports shoe that vibrates to give the wearer directions.
The fiery red sneakers, which will also count the number of steps taken, distance travelled and calories burned, will go on sale in September under the name LeChal, which means "take me along" in Hindi.
The shoes come with a detachable Bluetooth transceiver that links to a smartphone app to direct the wearer using Google maps, sending a vibrating signal to indicate a left or right turn.
They are the brainchild of 30-year-old Krispian Lawrence and Anirudh Sharma, 28, two engineering graduates who founded their tech start-up Ducere in a small apartment in 2011 with backing from angel investors and now employ 50 people.
"We got this idea and realised that it would really help visually challenged people, it would work without any audio or physical distractions," said Lawrence in an interview with AFP.