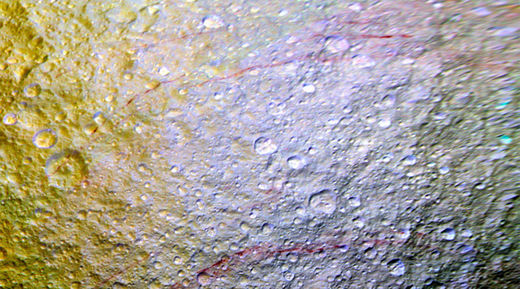 The international
Cassini
spacecraft has gotten some awesome footage of Tethys - one of the mysterious ice moons of Saturn. It yields
several "unusual, arc-shaped reddish streaks" running along the entire surface
. NASA is planning further studies.
The snaps were taken as
Cassini
flew by the giant planet on April 11, using its narrow-angle camera at an altitude of about 53,000km (33,000 miles) from the surface of Tethys.
Cassini
has been in orbit around Saturn since 2004.
NASA's Jet Propulsion Laboratory (JPL), also responsible for designing the 6.8 meter-tall (22.3ft) spacecraft and its onboard gear, writes on its website that the photos were taken "using clear, green, infrared, and ultraviolet special filters... combined to create enhanced-color views" which underline the striking features that, otherwise would not have been visible to the naked eye.
Despite
Cassini
being around for longer than 10 years, these are the first quality color images showing Tethys's north face, taken in conditions necessary for seeing anything of the sort we're witnessing now. Seasons in the area change very slowly, so only in the past few years, as the Saturn system entered its northern-hemisphere summer, have the areas become much more illuminated.