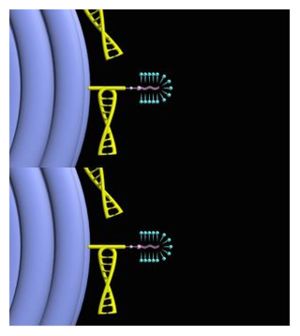 Sometimes to help the body, you have to fool the body, which is why researchers from Harvard's Wyss Institute of Biologically Inspired Engineering modeled their latest DNA nanodevice after those great immune-system evaders, viruses.
The whole project, outlined
in a new paper published at ACS Nano
, is pretty bizarre and cool -
back in February 2012, researchers at Wyss announced that
they had developed a robotic device fashioned out of DNA. They described how one day the tiny devices could be used for targeting specific, undesirable cells within the body.
The DNAbots were shaped like an open barrel whose two halves are closed by a hinge. When the barrel rolls across, say, a leukemia or lymphoma cell, the special DNA latches could recognize the cell-surface proteins, and the two halves of the barrel could swing open to deliver the DNAbot's payload, which could include molecules with encoded instructions that would interact with specific cell surface signaling receptors, all to give the cells the order to self-destruct. That's the idea, anyway.
The approach was already modeled on the seek-and-destroy methods of our body's own white blood cells. However, rather than being flattered by the mimicry, the immune system reacted to the DNA bots in a pretty hostile manner when they were injected into mice. When researchers covered the bots in fluorescent dye and injected them into the rodents' bloodstreams, the bots showed up glowing in their bladders pretty quickly. They were getting caught, filtered, and marked for expulsion.