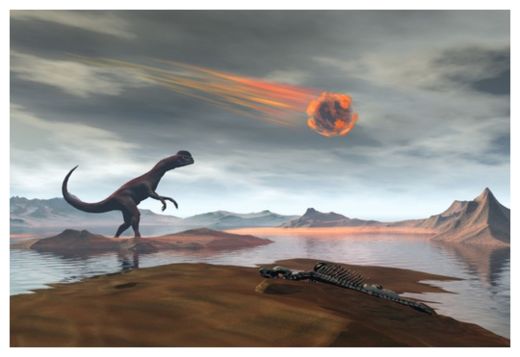 An asteroid or comet crashed into a shallow sea near what is now the Yucatan Peninsula of Mexico approximately 65 million years ago. A firestorm and global dust cloud resulted, causing the extinction of many land plants and large animals, including most of the dinosaurs.
Researchers from the Monterey Bay Aquarium Research Institute (MBARI) presented evidence this week at a meeting of the
American Geophysical Union
(AGU) that remnants from this devastating impact are exposed along the Campeche Escarpment - an immense underwater cliff in the southern Gulf of Mexico.
The impact from this ancient meteorite created a crater over 99 miles across. The crater is buried beneath hundreds of feet of debris and at least half a mile of marine sediments, making it nearly invisible for modern geologists, however. The fallout from the impact has been found in rocks around the globe, although there has been surprisingly little research done on the rocks close to the impact site, partially because they are so deeply buried. Currently existing samples of impact deposits close to the crater have come from deep boreholes drilled on the
Yucatan Peninsula
.