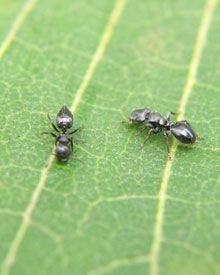 Researchers plan and plot every considerable aspect of their work, but sometimes it's something unexpected and seemingly insignificant that leads to the real discovery. That was the case for Scott Powell, assistant professor of biology at the George Washington University.
While conducting field research on turtle ants in the savannah region of Brazil, Dr. Powell noticed something peculiar: a species of ant infiltrating the region of a host ant,
Crematogaster ampla
. The
C. ampla
is known for its hyper-aggressiveness, but did not attack the invading species, which was Dr. Powell's first clue that something was amiss. The invading ant species acted very similarly to
C. ampla
but looked slightly different.
"I did a true double-take when I first saw this new species," said Dr. Powell. "As I turned away, after seeing what appeared to be large numbers of host foragers, it registered that a couple of the ants I had just laid eyes on were not quite like the others. Turning back around, I managed to re-find the few peculiar ants in the masses of host ants, and everything followed from there."