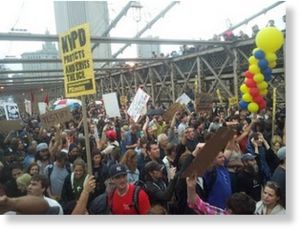 Roughly 500 peaceful protesters marching in opposition to the corporatist takeover of America and the robbery of the United States by the banking and Wall Street elite were rounded up and arrested thanks to suspect tactics employed by the NYPD.
While many argue against the Occupy Wall Street protests based on partisan politics, the heavy union involvement, and the role Marxist organizations have played in the demonstrations, I think this is seeing the forest for the trees.
Regardless of what you think about those who organized the protest and the involvement of SEIU and other unions, you must realize that we are all being robbed and oppressed by the same people.
Furthermore, everyone must take notice of the tactics the NYPD has been using to attempt to shut down these protests. Even if you disagree with the Occupy Wall Street message, would you like to experience these same oppressive and highly questionable tactics when you demonstrate for your cause of choice?