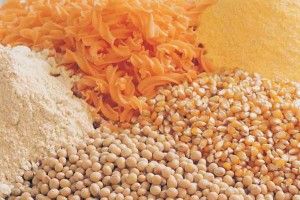 Grains are often called the "staff of life," having a sort of credibility that is biblical in proportion. So prevalent is the perception that grains make for "good food" that the Food and Agriculture Organization (FAO) - which is the United Nation's international agency for defeating hunger - uses a head of wheat as its emblem, with the Latin Fiat Panis or "Let There Be Bread" as its motto.
Despite the rather lofty secular position a loaf of whole grain bread may hold in the international community, the biblical record actually shows that the first foods mentioned in the Bible were the Herbs and Fruit Trees (Genesis 1:29), and that by punishment for sin God gave man bread:
"...cursed is the ground for thy sake;...In the sweat of thy face shalt though eat bread, till though return unto the ground..." (Genesis 3:17,19).
The inherent wisdom of this biblical message has long been forgotten and today, according to the
USDA MyPlate
, grains should constitute a sizeable sector of our diet in the form of "bread, cereal, rice, and pasta." Many of us, whose hyper-agrarian taste buds and gastrointestinal tracts have never once gone a day without some grain-derived morsel of bread or cracker, find ourselves expressing our dependency on these foods in telling, half confessionary phrases like: "I'm starving for a piece of bread," or "that pizza is to die for," forgetting that among non-agrarian peoples, grains were universally considered a last resort, or,
starvation food only
.