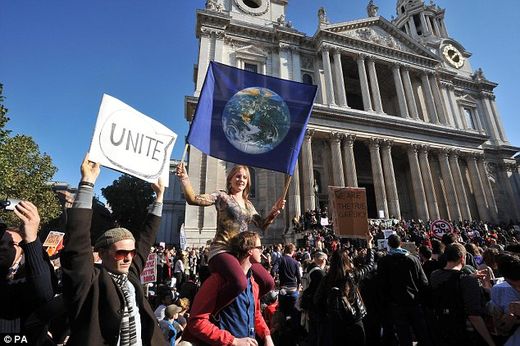 Protesters inspired by the growing 'Occupy Wall Street' movement in the U.S have today taken over the City of London.
Thousands have descended on the area known as the Square Mile - under the banner 'Occupy the Stock Exchange' - for a 'peaceful protest' against the global financial system.
They had planned to take Paternoster Square, where the Stock Exchange is located, but police cordoned off the area prior to the protest.
A notice was put up stating the square is private property and access would be restricted. Police sources said a High Court injunction had been taken out to prevent members of the public from accessing the square.
The event kicked off at midday outside St Paul's Cathedral and initial reports on Twitter talked of an 'amiable' atmosphere.
Activists carried banners with slogans such as 'We are the 99%' and 'Bankers got a bailout, we got sold out'.
Among them was Lorena Fuentes, 27, a charity worker originally from Vancouver, Canada. She said: 'I'm here today because I can't see why you wouldn't be and I feel that this is one of the few moments in history where it's not a protest, it's an actual movement that's taken root.