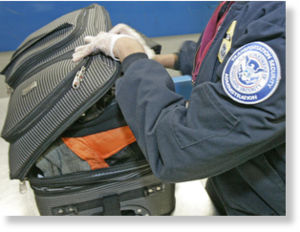 For an agency that claims to have "zero tolerance" for criminal behavior, TSA agents sure spend a lot of time declaring their guilt.
I was reminded of that unfortunate fact a few days ago after a screener reportedly faced accusations of
stealing $5,000 from a passenger's jacket
as he was going through security at John F. Kennedy International Airport. The agent, Alexandra Schmid, hasn't confessed yet even though officials have it all on videotape. But a closer look at the TSA's rap sheet reveals that often, employees accused of crimes simply roll over and play dead when someone points a finger at them.
Take Coumar Persad and Davon Webb, accused of swiping $40,000 from a piece of luggage in January 2011. They were charged with grand larceny, obstructing governmental administration and official misconduct. Last month, they pleaded guilty and were sentenced to
six months in jail and five years' probation
.
Speaking of theft, how about the TSA supervisor and screener accused of
taking between $10,000 and $30,000 from luggage at Newark Liberty International Airport
. A federal judge sentenced the supervisor, Michael Arato, to 2 1/2 years in prison and his subordinate, Al Raimi, to six months of home confinement, after both pleaded guilty.
Or Randy Pepper, the TSA supervisor who worked at Seattle-Tacoma, an airport with what many passengers would argue has the worst TSA workforce in the country?