Gaza's poor infrastructure and lack of building material and equipments due to the blockade has led the war battered infrastructure to deteriorate.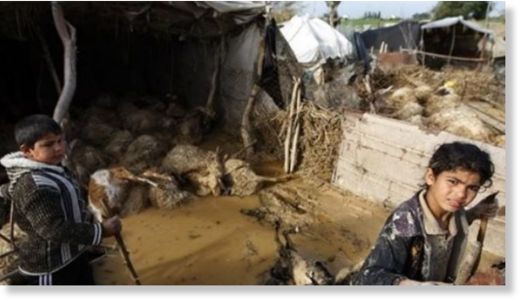 Palestine - Dozens of homes were flooded in central Gaza by untreated sewage water after Israel opened a dam located in the eastern side of the impoverished territory which leads to the Gaza Valley off the Mediterranean .
With Egypt's refusal to allow fuel into the blockaded coastal enclave, it was extremely difficult for rescue crews to tackle the problem.
Families in the flooded area have been struggling since the early hours of the morning trying to retrieve their belongings. Some area residents described the flooding of as another Israeli aggression demanding international protection.
In 2007 Israel placed the Territory under an unprecedented blockade on nearly all movement and supplies in and out of the Strip.
To add insult to injury Gazans have to deal with 18 hours of power outage because Gaza's sole power generating plant has stopped working again after Egypt blocked the flow of diesel fuel through underground tunnels.