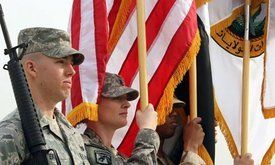 Iraqi people greet pullout ceremony with ambivalence mixed with concern over an uncertain future
There was no triumphalism and certainly no shock or awe. The end of the war in Iraq was subdued and simple: a small band playing as the US forces flag was furled with 200 troops watching on quietly.
In a makeshift parade ground in a corner of Baghdad airport, time was called on the war just after 1pm on Thursday, eight years, eight months and 26 days after its far more dramatic opening in March 2003. Nearby a plane was waiting to take home the US high command. And in southern Iraq, the 4,000 US troops who remain were steadily streaming towards Kuwait.
By Sunday all the troops will be gone, called home for Christmas by an administration that decided there was little point sticking to the original end date of 31 December. The Iraqi government had made clear that it no longer wanted a US presence here and any soldier who stayed behind would not be granted legal immunity.