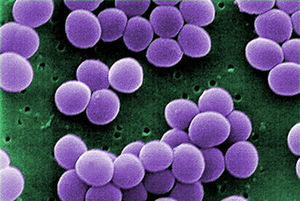 Antibiotics were once the wonder drug. Now, however, an increasing number of highly resistant - and deadly - bacteria are spreading around the world. The killer bugs often originate in factory farms, where animals are treated whether they are sick or not.
The pathogens thrive in warm, moist environments. They feel comfortable in people's armpits, in the genital area and in the nasal mucous membranes. Their hunting grounds are in the locker rooms of schools and universities, as well as in the communal showers of prisons and health clubs.
The bacteria are transmitted via the skin, through towels, clothing or direct body contact. All it takes is a small abrasion to provide them with access to a victim's bloodstream. Festering pustules develop at the infection site, at which point the pathogens are also capable of corroding the lungs. If doctors wait too long, patients can die very quickly.