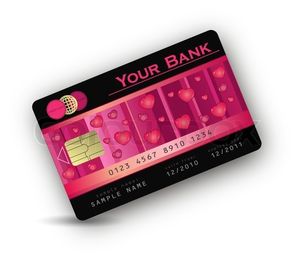 So Thursday, February 14th is another 'Valentine's Day', and once more, the corporate media hype machine has been tripping over itself to get everybody to show their 'love' by spending stupid amounts of money, because, that's what we're all supposed to think 'love' is:
money
, how much of it you're willing to spend on the one you 'love', and what it can buy and what it says about your human worth/value depending upon how much you spend - or don't - in response to the pressure being strategically exerted upon you from multiple directions.
Commercials for diamonds and gold, flowers, chocolates, cruise trips and Hallmark cards that will ''profess your love in the perfect way' - because these are the yardsticks by which our society is encouraged to 'measure' love. Buy stuff. We can say it better than you can say it for yourself, so just let us say it for you - and it'll cost ya. Have you seen how expensive the damn cards alone are these days?
It's really pathetic that this same parade of commercialized, rose-scented, chocolate-dipped stupidity marches through the public mindset every single year - and every single year, people fall for it. They're tripping over themselves falling for it.
What happens if you don't buy some expensive gifts for your 'valentine'? Are you in the dog house? Is this how love is measured in so many homes and relationships? In dollar amounts and carats?
What do you do all year long to show that person you claim to love that you love them? How do they show you? With 'stuff'?
Moreover, why do people need to have some 'designated holiday' designed to celebrate love at all - and then, through materialism?
Love = Stuff, and the more expensive the Stuff, the more 'real' the Love?
Is this where the majority of people are in their 'thinking'?
Sure seems to be the case.
Why isn't
every day
automatically self-designated to include this idea of celebrating love for your chosen Valentine? I wonder that, and then the smart-ass part of me wants to respond with something like, "who could afford it?"
Valentine's Day has become just as pathetic and disgustingly over-commercialized as 'Christmas'.
Seems to me, if you really love someone, you show them all the time, of your own volition, because you want to show them, through your day to day actions - because they mean something special to you, because you CARE. This does not have to translate into spending obscene amounts of money, or even any money at all. Real love is an action verb, not a piece of plastic with an expiration date and a three digit security code on the back.
It's about showing someone you care about them. Are you capable of showing you care without caving in to commercialism?
Sadly, there is so much expectation deliberately constructed around 'holidays' like Christmas and Valentine's day, there's often hell to pay if you don't jump on that credit card bandwagon and do what most everybody else is doing: spending.
"You shall spend today!"
It's a damn shame.
Do you really need people whose sole intent is to sell you overpriced merchandise and profit off of exploiting your feelings about that special person in your life, using the justification/excuse/cloak/banner of "LOVE" to convince you that REAL LOVE means buying their products to 'celebrate' and 'prove' your love?

It's a marketing gimmick and nothing else, and yet, once again, the Pavlovian public reacts exactly as intended. Spend, spend, spend, buy, buy, buy.
All status, all for appearances, all the time.
When you feed into this marketing crap, you're feeding into illusion. A false depiction of what love really is.
That is, unless money = love to you.
Just remember:
money is fiction too
. So how real can it be if this is the means you rely upon to 'measure' or 'prove' just 'how deep is your love?'
Trading promissory notes for shiny, sparkly rocks, toxic sugar-drenched consumables, and other superficial status symbols doesn't mean you really love the person you're giving them to.
It may very well mean that either you - or your 'Valentine' - love/expect those THINGS - and not so much each other.
Love is indeed a verb, but that verb doesn't require maxing out a credit card on a designated day to try to convince somebody else you feel something real for them by plying them with more costly and better 'stuff' to add to their existing collection of other 'stuff'.
If strategic corporate/media marketing blitzes that encourage, pressure, and promote the current spending frenzy is what 'real love' is in our society, then real love no longer exists in this sick society. If this is how society is going to continue to 'measure' and 'value' others, by how much money is spent - then count me out.
Because it's a meaningless charade, all for show.
And given that yardstick, what then of those who can't spend all kinds of money to 'prove' their 'love'? Their love is not as 'real'? Everything is backwards and inside out today in this world in which we live, or think we're living.
Hell, and if this is what it's come down to, more than ever before, then it seems to me that's WAY more 'pathetic' than being single and alone on Valentine's Day.
At least, there is dignity in not being a part of, or party to, this zombie circus. There is something to be said in knowing that you're standing outside that circus tent, disengaged from the mindless reactionary rituals of a mal-adapted Pavlovian society and watching the shakedown in progress, rather than taking part in it yourself. It's not any less disturbing to watch other people playing charades and pretending it's all real.
"Happy Valentine's Day".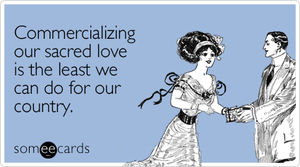 Cha-ching, cha-ching, cha-ching.
Ask yourselves, who's sponsoring the charade for you this year?
Whatever happened to looking at, thinking about, experiencing, applying the concept of real love, without the dollar sign?
Such old fashioned notions seem to have flown - like everything else that wasn't broken - right over the cuckoo's nest.
A long time ago when I was a kid, the valentines' cards were hand-designed, cut and colored by hand, with bits of lace and sprinkles of glitter, pieced together from red construction paper - and we thought up our own words.
I remember - they always seemed to be... 'enough'.
This Valentine's day, do yourself, your loved one (and the entire planet) a favor, and make an effort to understand what love really is. Here's a start:
[Originally Published February 1988 - by Michael Crichton]

Love Is...

Most of the people I know confuse love with possession. It's easy to see why; it's built into the fundamental assumptions of our culture. "You're mine," says the popular song, "and we belong together." Hardly anyone stops to question the sentiment.

As soon as we feel love, we immediately attempt to possess. We speak confidently of my boyfriend, my wife, my child, my parent. We feel justified in holding expectations about those people. We consider that perfectly reasonable.

Why? Because all our concepts of love ultimately derive from romantic love - and romantic love is furiously, frantically possessive. We want to be with our lover, to have them to ourselves, to feel their eyes on us, to consume their minds and bodies...to possess them.

So strongly do we equate love with possession that we may even feel if someone doesn't want to possess us, they don't really love us. Yet I would argue that what we call romantic love is not love at all. It's a kind of emotional storm, an overpowering, thrilling attraction - but it isn't love.

Because real love isn't possessive. It can't be. We'd all agree that love involves giving, not taking. Yet the desire to possess actually springs from the lover's own need - the need for approval from the beloved, for support from a parent, for straight A's from a child, for status, for financial security - for something. A possessive lover is overly focused on what he's getting, not what he's giving. The lover may dignify his dependency with the name love, but it's a lie. How can you really love somebody when you're dependent on them for things you need? That isn't love, that's just manipulation to keep the needed stuff coming your way. Robert Palmer sings about being "addicted to love," but nobody really is. People are addicted to their needs.

And love isn't the same as need. It just isn't.

Of course, a loving relationship will produce interdependencies. But all too often, the pleasure of freely giving changes to a fear of possibly not getting. It's just that this person - your husband, your girlfriend, your child - is suddenly so important to you. You worry about what's going to happen. What they're going to do. And at that moment, love stops.

People sometimes wonder if they're feeling real love. These same people never wonder if they're sexually aroused, or sad. Then what's the problem about recognizing love? Most often, because they're sensing a conflict: they're feeling the depth of their need, not the heights of their love.

There are ways to know real love. It feels calm. It's steady, and it can easily last a lifetime. It's nourishing - people grow under its influence. They become who they really are, and now what someone expects them to be. Real love isn't blind; on the contrary, people feel understood, accepted for who they really are. It's healing. People recover.

So whenever you hear that love is blind, or love can't last, or love is destructive, you can be sure that you're hearing a description of lust, or desire, or need. And it's an accurate description, because needs really are transient and destructive.

But love is something else entirely. An emotion of deep caring that asks nothing in return, an emotion that is fulfilling without any expectation at all, is so rare that most people in our society can't imagine it. They can't imagine feeling it, or receiving it. They may even come to believe it doesn't exist. But it does.

And it's the best thing there is.