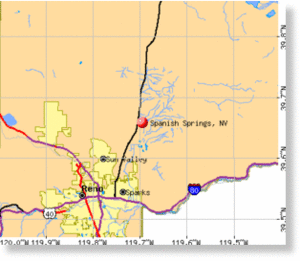 University of Nevada, Reno seismologists have reported 115 small earthquakes in the Spanish Springs area since Oct. 8. It's the largest reported batch of earthquakes in a related location near Reno since the 2008 earthquakes in Verdi and Mogul, which included a magnitude 5.0 quake, UNR seismologist Diane dePolo said.
Nevada has about 30 to 50 reported earthquakes each day, she said. The Spanish Springs earthquakes have not registered higher than a magnitude 1.0, but that doesn't mean a larger earthquake isn't possible, she said.
To push earthquake preparedness, each Nevada public school is expected to participate at 10:18 a.m. Thursday in the third annual Great Nevada Shakeout, district officials said.
The recommended steps are drop, cover (usually under a sturdy desk) and hold on in case students have to move with the cover. "The plan is to do the drill over the (public address) system and stay quiet for a minute until 'all clear' is heard over the system," she said.
Tracy Moore, emergency manager for the school district, said the earthquakes of 2008 heightened awareness in the state.
"We always participate in this and have for years because Nevada is such a seismic active state," he said.
Every Washoe County school will participate but not all will evacuate after the exercise, he said. The earthquake drill counts as a monthly fire drill for schools, he said.
Nevada has ranked third in the country in the last 150 years in reported earthquakes registering 5.5 or above, according to the Nevada Seismological Laboratory.
Swarms of earthquakes, as the one in Spanish Springs, are not statistical anomalies for the state, she said.
"This is just an area that is lighting up right now," dePolo said. "People are not feeling them, but we have instruments in the area to pick them up."
A similar batch of earthquakes hit areas southwest of Hawthorne earlier this year, including several magnitude 4.0 earthquakes.
The largest recent earthquake in Nevada was a 6.0 quake near Wells by the Utah line in Elko County. That earthquake injured three and heavily damaged more than 20 buildings, according to United States Geological Survey reports. About $700,000 in property damages were reported.
In 1954, three earthquakes registering above 7.0 were felt with an epicenter just 40 miles east of Fallon.
Two of the earthquakes happened on the same day - Dec. 16, 1954 - sending large boulders in the path of cars and creating a land gash 12 feet deep and 30 feet across just outside Fallon, the Nevada State Journal reported.