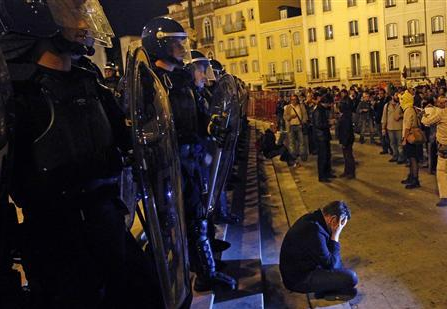 Portugal's centre-right government on Monday announced sweeping tax rises and spending cuts in its 2013 budget, which promises a third year of recession and hardship under the strict conditions of a 78-billion-euro (62.2 billion pounds) bailout.
Finance Minister Vitor Gaspar warned that failure to continue on the path of austerity could be catastrophic as about 2,000 protesters gathered outside parliament to demand the resignation of the government.
The budget includes the toughest tax hikes yet under the country's bailout programme, which will amount to up to three months' wages for middle-income workers.
It has ignited the greatest outpouring of anger so far in Portugal's economic crisis.
"The margin of manoeuvre for unilateral decisions is non-existent, a rejection of the 2013 budget would mean a rejection of the bailout programme," said Gaspar, adding the bailout plan was the country's only choice.
"Asking for more time (under the bailout) would lead us to a dictatorship of debt and to failure."
Opposition Socialists called the tax hike "a fiscal atomic bomb" saying it denied the country growth and jobs creation.
Gaspar stuck to the government's previous projection of a 1 percent contraction of GDP in 2013, which would mark the country's third year of recession but which economists say is much too optimistic considering the hit to consumers from the budget.
Portugal entered its deepest recession since the 1970s this year, when GDP is seen slumping 3 percent, which has pushed unemployment to record highs near 16 percent.
Some economists say that the measures, which also include pension cuts, a financial transaction tax and higher property taxes, could push Portugal into a recessive spiral like
Greece
, further undermining Europe's German-inspired austerity drive for the euro's highly indebted countries.
Gaspar said new taxes would amount to 4.3 billion euros in 2013, representing 80 percent of next year's austerity measures, but rejected it would lead to a recessive cycle.
Guinea Pigs?
"I feel like a guinea pig in an economics experiment," said Joao Duque, a professor who heads the School of Economics and Management at Lisbon's Technical University.
"The measures will accentuate the crisis we already face, that is evident."
The government has argued that following EU fiscal discipline will better serve the long-term interests of Portugal as it faces some of its most testing days since it emerged from decades of right-wing dictatorship 38 years ago.
The budget comes after the government announced last month a rise in social security contributions, which it subsequently dropped after mass protests erupted. Opposition to the alternative tax measures is set to be equally strong.
Even the conservative president, Anibal Cavaco Silva, criticised the budget measures. "In the current circumstances, it is not correct to demand of a country being subjected to a budget adjustment process that it meets the targets at any cost," Cavaco Silva wrote on his Facebook page.
Before September, Portugal had shown a relatively high level of political consensus and support for cutting costs and for the bailout it sought in 2011, when fears over high levels of government indebtedness made its borrowing costs soar.
But that support has been eroded, with the Socialists now pledging to vote against the budget when it is put to parliament at the end of the month.
Protests have now become frequent, though still peaceful. A general strike is planned for November 14.
Prime Minister Pedro Passos Coelho's Social Democrats hold a comfortable majority in parliament together with their rightist ally the CDS. But the CDS has a long history of opposing higher taxes and analysts say the party's complete support of the government can no longer be taken for granted, especially if the economy weakens further.
In recent national opinion polls, the ruling party has dropped to record lows since the last election in June 2011.
The government spent the weekend and Monday morning locked in an internal debate on the possibility of finding more areas for spending cuts but not much had changed from the previously announced plans to hike taxes.
The budget also includes measures to help the economy like allowing small and medium-sized companies to defer value-added tax payments until after they had booked receipts from customers - measure that should boost cash flow and ease their debts.
This year's budget performance was undermined by tax revenues falling short of expectations as the recession deepened and unemployment rose beyond government forecasts.