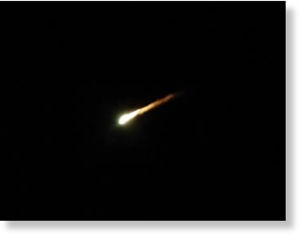 Clear skies allowed a clear view of the fire balls which were witnessed right across the UK, Ireland and even parts of north west Europe.
Bright 'meteor-like' tails could be seen in the sky for approximately two minutes at 10.55pm on Friday night.
Reports of "bright balls of fire with tails of fire" came from across the region, including Belfast, Ballymena, Newtonabbey and Derry.
But experts are not clear on whether the spectacular show was a space rock burning up or a piece of space junk, such as a piece of satellite or aircraft burning up in the atmosphere.
Dr Andy McCrea, former president of the Irish Astronomical Association said the display was "spectacular" and "fairly unusual" he said it was unlikely that it was a meteor shower.
"Meteors are very tiny objects, about the size of a grain of sand and they enter the atmosphere at high speed and burn up very quickly and that's what gives you the sort of shooting star," he said.
"A meteor shower happens over a prolonged period of maybe several hours sometimes- this was most likely a single large body which was breaking up going through the atmosphere."
"The two possibilities could be, one, it could be a large piece of rock from space," he explained. "Or it could have been space debris, that is a satellite or piece of space material, burning up in the atmosphere as it returns to earth."
But Professor Mark Bailey from Armagh Observatory, was not so certain that the objects could be discredited, and said that there have been no reports of anything "landing".
He said they have received hundreds of reports of the fireballs and his suggestion is that Friday's display could have been "a small near-Earth asteroid" that happened to "graze the Earth's atmosphere".
Professor Bailey said this has happened before, notably the great meteor of August 18 1783 and a meteor procession in February 9 1913.
"Several people describe hearing rumbling sounds, like distant thunder, or a booming sound, which would have been the sonic-boom effects of the object's supersonic passage through the Earth's upper atmosphere,"
he told UTV.
"One local report describes hearing the sound of objects actually landing close to them, and these people collected some stony fragments which might be associated meteorites from the event.
"Whatever the origin of the object, it is certainly very unusual in moving so very slowly- ie almost as slow as an object orbiting the Earth- and in travelling East to West at such a slow speed," he added.
"Some people have suggested that, rather than being a part of an asteroid this might have been a piece of man-made space debris re-entering the Earth's atmosphere, but from what I can gather and it's still too early to be sure,
this would seem a less-likely explanation than the small near-Earth asteroid alternative."
Professor Bailey said that the mystery could be solved if anyone with footage of the fireballs from a fixed camera (CCTV etc) provides it to experts, then the direction of travel can be determined- which will help determine if the objects were extra-terrestrial or in earth's orbit.