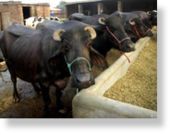 The Mpumalanga agriculture department is investigating the recent deaths of at least 29 cattle in the Nkangala area.
"Farmers reported that they started observing their sick animals in the past few days," spokesman Bheki Nyathikazi said in a statement on Wednesday.
The cattle reportedly had tremors, and loss of co-ordination and muscle control, prior to dying. Samples had been collected from the carcasses to establish the exact cause of death.
Although the deaths were being investigated, the department said livestock in the area was generally in a poor condition at this time of year. This was due to a scarcity of grazing caused by veld fires and drought.