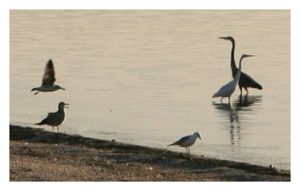 Investigators are probing the source of a rotten egg odor from the desert to the San Fernando Valley.
The cause of the smell remains unknown, but some officials believe the bad smell may be coming from a summer storm and a fish die off at the Salton Sea, although authorities at the Salton Sea initially denied they were the source.
Kevin Martin, a meteorologist with the independent Southern California Weather Authority, said a strong thunderstorm system moved north from Mexico late Sunday, Sept. 9, bringing in winds as strong as 70 miles per hour to the Saltan Sea areas.
The unusual storm pushed the air from above the sea to the west. It then went through the San Gorgonio Pass, and into the Inland valleys, Martin said. Winds normally flow from west to east.
The South Coast Air Quality Management District, however, has not identified a source of the odors, but the agency has dispatched inspectors to investigate.
The air district received more than100 calls reporting a strong, foul rotten egg or sulfur odor, district officials said in statement.
Possible sources include fish kills, algae blooms and other biologic conditions in lakes that can cause strong odors, the statement said. Industrial facilities such as wastewater plants also can cause sulfur odors.
Cal Fire officials believe monsoonal moisture has trapped the odor amid high humidity and warm temperatures, spanning from the Caochella Valley to north of Los Angeles.
A warm summer thunderstorm and winds topping 20 mph may have pushed the odor west, causing it to linger throughout Southern California, rather than settling within declining moisture.
"It's deceiving what the Salton Sea can do," Hutchinson said. "We don't have the prevailing winds in this area and the stuff just isn't able to settle. Because it's everywhere, we don't think it's multiple sources, the smell is being pulled off of the clouds."
Several people have complained about the smell throughout the Inland area, including Redlands, Riverside, Corona, Moreno Valley, Woodcrest, Menifee, and Murrieta. Some have likened it to the smell of rotten eggs and say it is so strong they won't go outside.
"It is just noxious," said Woodcrest resident Lisa Rosser, who lives near King High School. "My concern is whether the kids should be outside or not."