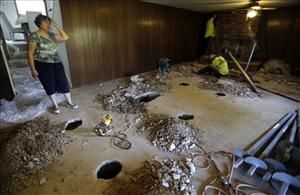 Companies that fix foundations struggle to meet demand
Carol DeVaughan assumed her suburban St. Louis home was simply settling when cracks appeared in the walls. When she noticed huge gaps between her fireplace and ceiling, and that her family room was starting to tilt, she knew she had bigger problems. Like thousands of other Americans getting stuck with huge repair bills, DeVaughan learned that the intense drought baking much of the country's lawns, fields and forests this summer has also been sucking the moisture from underground, causing shifting that can lead to cracked basements and foundations, as well as damage aboveground.
Repairs often cost tens of thousands of dollars and can even top $100,000, and they are rarely covered by insurance, as shocked homeowners have been discovering. Home repair businesses, especially those specializing in repairs to basements and foundations, can barely keep up with demand. Drought-related home damage is reported in 40 of the 48 contiguous states, and experts say damage to homes could exceed $1 billion.