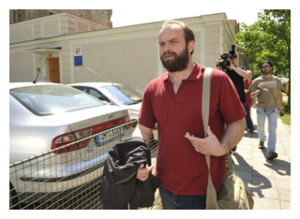 Brno -
The Czech Supreme Court has rejected a ministerial complaint against a controversial verdict imposed on bus driver Roman Smetana who defaced political adverts on buses before the 2010 general election, its spokesman Petr Knoetig told CTK today.
The court concluded that Smetana´s action exceeded the limits of a political manifestation and deliberately damaged property.
Smetana, 30,
added feelers to politicians on more than 30 adverts posted on municipal buses within an election campaign
in Olomouc, north Moravia, and he made other mocking additions to the adverts. In his comments scribbled on the posters
he branded politicians "liars," "corrupt persons" and "prostitutes," making no difference between the parties they represented.
The Civic Democratic Party (ODS), which had the highest number of adverts defaced, demanded that Smetana pay the damage of about 15,000 crowns.
Smetana paid the damage but he refused to do 100 hours of community work. The judge then changed the verdict to 100 days in prison.
Smetana then reacted by pointing to the fact that the judge involved was Marketa Langerova, wife of Ivan Langer, former interior minister.
Though Langer was the ODS's number one candidate in Olomouc in the 2010 polls, he did not defend his parliamentary seat, also due to a civic campaign that criticised him and called on ODS´s supporters to prefer other candidates.
Smetana was ordered to start serving his sentence last March but he did not turn up in prison and was avoiding it for one month.
Originally, Smetana´s sentence was to expire at the end of July, but former justice minister Jiri Pospisil (ODS) filed a complaint against the verdict in May. As a result, the Supreme Court suspended the sentence and Smetana was released from the prison.
The Olomouc district court will now decide when Smetana should turn up in prison for the rest of his punishment.
($1=19.776 crowns)