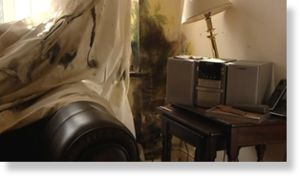 Two people have been injured after a reported lightning strike on two houses in the Pontprennau area of Cardiff. South Wales Fire and Rescue Service say they were called to Gateside Close at 2.24pm this afternoon. Ambulance crews treated one man, Mannan Haq, for reported electric shock, as well as a lady believed to be suffering from hearing loss.
Mr Haq, who was visiting his friend at the property, believes he was struck by lightning as he plugged a USB memory stick into the television. He says he saw a flash outside the window and felt a shock travel up his right arm.
He said he 'knew he'd been struck by lightning', describing it as 'agony' and a sensation he 'wouldn't wish upon anyone'.
There was also damage to household items, including the curtains and the wall behind.
Western Power Distribution have confirmed that they had been to the semi-detached home but found no problems with the electrics.