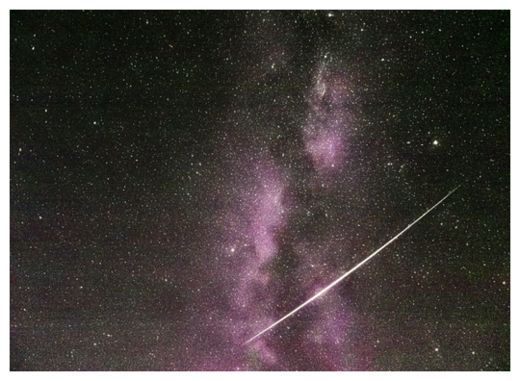 The summer of 2012 will go down as one of the best! The days have been incredible but so have the nights. Backyard astronomers have been over the moon with the clear skies and in many cases fog free nights.
The big boys are thrilled too! This past weekend at Fundy National Park in New Brunswick, members from the Royal Astronomical Society of Canada brought their telescopes out and shared the sky with over 300 people over two nights.
Friday at midnight, Tim Doucette snapped this image of an extremely bright blue meteor flying through our atmosphere. This is a 15 second exposure with the Milky Way in the background! Fabulous!
Tim has been staring at the night sky for a long time, but he says it was the second or third brightest meteor he's ever seen. Based on the direction and point of origin, he doesn't believe it was a Perseid. The next night, just after 9pm, they saw, in the western sky, what appeared to be another fireball burning up in the atmosphere and it lasted about 10 seconds.
What a weekend for the gang in the park. Viewing from the city is not usually quite as good, but it doesn't hurt to look up, you never know what you might see!