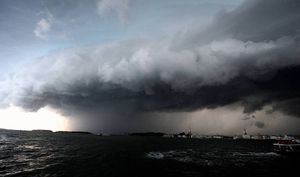 Cyclone Beatrice struck northern Italy on Sunday, causing light flooding, storms and a mini-tornado but also providing much needed cooling after a weeks-long heatwave.
Farmers and vintners hampered by the drought looked forward to Beatrice, which succeeded Lucifer, an anticyclone with winds that spiral out from a high-pressure centre, which had brought hot air from the Sahara Desert.
The cyclone is expected to move slowly toward the south of Italy, lowering temperatures and causing storms next weekend.
Some roads and highways were flooded in the centre-north of the country, causing delays for Italians returning home from summer holidays.
A mini-tornado also ravaged the renowned botanical gardens of Villa Taranto on the shore of Lake Maggiore, uprooting 250 plants and destroying others at the arboretum visited by 150 000 people each year.