Tens of thousands of Louisiana residents have been ordered to evacuate as Tropical Storm Isaac picks up strength in the Gulf of Mexico - and it may strike seven years to the day after Hurricane Katrina devastated the same area. More than 50,000 residents of the St. Charles Parish in southeast Louisiana have been told to leave ahead of Isaac, which is churning in the Gulf.
Governor Bobby Jindal suggested anyone in low-lying parts of the state's coastal parishes leave their homes, while evacuations were also enforced in the lower areas of the Alabama coast, which is likely to be lashed by rain, wind and flooding. Isaac is expected to crescendo to a Category 2 hurricane before striking land along the Gulf Coast by Tuesday night or Wednesday - the anniversary of Katrina - according to the National Hurricane Center.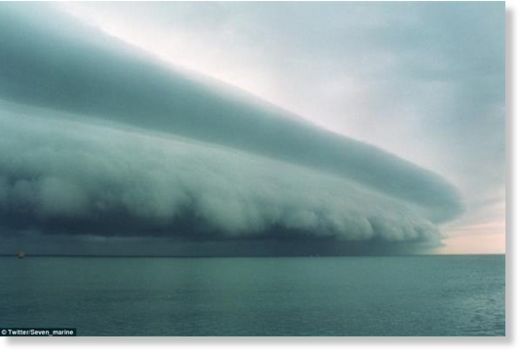 Additional images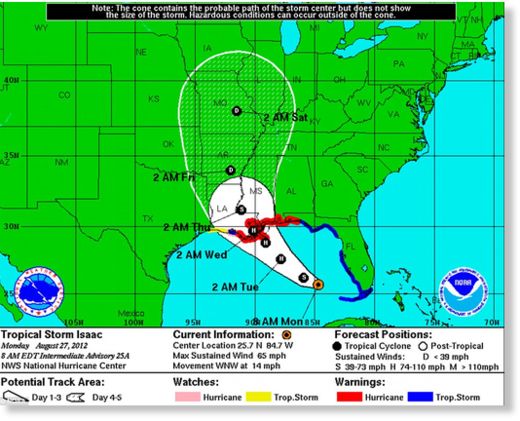 A hurricane warning has been issued for parts of the state east of Morgan City, which includes the Katrina-ravaged New Orleans area. A hurricane hasn't hit the Gulf Coast since Ike in 2008.
There were fears that Isaac could strike New Orleans with the the same deadly force as Katrina, the monster 2005 storm which wiped out hundreds of thousands of homes and led to the death of nearly 2,000 people.
'It is difficult to realise that to the day - seven years after Katrina - another hurricane is headed our way,' Mississippi Governor Phil Bryant said. 'It is important for Mississippians to take this storm seriously and prepare for potential impact.'
Isaac shifted West into the Gulf of Mexico after lashing the Florida Keys with strong winds and heavy rain over the weekend. On Monday, it was about 75 miles west of Key West at the southernmost tip of the U.S. mainland, with top sustained winds of 65 mph and moving northwest at 14 mph
On Sunday, Alabama joined Florida, Mississippi and Louisiana in declaring a state of emergency as Isaac looms.
The National Hurricane Center said Isaac was expected to intensify to a Category 2 hurricane, with 'extremely dangerous' sustained winds of 105 miles per hour (169 kph), as it swept up the warm waters of the Gulf of Mexico.
It is forecast to become a hurricane either Monday or Tuesday; a storm becomes a hurricane when sustained winds reach a minimum of 74 miles per hour (119 kph).
Its westward track meant the worst of its weather would miss Tampa, where the Republican National Convention was expected to open its four-day meeting on Monday but official events were delayed until Tuesday because of the storm.
Some Gulf residents started stocking up on supplies and securing their homes. In New Orleans, long lines formed at some gas stations and in Gulfport, Mississippi, people crowded supermarkets to buy bottled water and canned food.
'I sense a high level of anxiety,' said New Orleans Mayor Mitch Landrieu. 'The timing, as fate would have it, on the anniversary of Katrina has everybody in a state of alertness, but that is a good thing.'
In Katrina, at least 1,836 people died and cost of the damage was estimated at $110billion.
Forbes
reported that Isaac has the possibility to rival Katrina in its destructive power.
In south Florida, winds from Isaac forced cancellations of hundreds of flights in and out of Miami, Fort Lauderdale and other south Florida airports on Sunday.
Miami Mayor Carlos Gimenez reported more than 500 cancellations affecting Miami International Airport alone.
The U.S. National Hurricane Center issued a hurricane warning for the northern Gulf Coast from Louisiana to the Florida Panhandle on Sunday.
Tropical force winds from the massive storm stretched across 400 miles (644 km), with rain bands extending even further, said NHC meteorologist David Zelinsky.
It means Isaac could cause significant damage even in places where it does not pass directly overhead.
'It certainly is a large storm,' he said, noting that wind gusts of 60 mph (100 kph) had been detected as far apart as Key West and Palm Beach.
The storm will likely pick up strength from the warm, open waters of the Gulf of Mexico and strike as a dangerous Category 2 hurricane somewhere between New Orleans and the Florida Panhandle on Wednesday.
Isaac has brought havoc to the Caribbean already, killing at least eight people in Haiti, two more in the Dominican Republic and downing trees and power lines in Cuba.
Airlines cancelled hundreds of flights as the storm lashed southeastern Florida on Sunday. Airports in Miami and Fort Lauderdale were hit the hardest, cancelling 573 flights - the vast majority of the 654 U.S. flights grounded overall because of the storm as of Sunday morning.
There were scattered power outages from Key West to Fort Lauderdale affecting more than 6,000 customers, and flooding occurred in low-lying areas.
It had officials worried enough in Tampa that they shuffled around some plans for the Republican National Convention, cancelling the first day of the event.
'Our first priority is ensuring the safety of delegates, alternates, guests, members of the media attending the Republican National Convention, and citizens of the Tampa Bay area,' party chairman Reince Priebus said in an emailed announcement that followed private conversations involving presidential candidate Mitt Romney's campaign, security officials and others.
Nearly $20million was spent to prepare the scene for the political pow wow, with up to 300 people working round the clock to refurbish the venue, home to the Tampa Bay Storm arena football team and the town's NHL team, the Tampa Bay Lightning.
Forecast models show Isaac won't hit Tampa head-on, but the storm will still likely lash the city with rain and strong winds just as the convention ramps up. Protests started in full force on Sunday afternoon, and demonstrators have vowed that they will make their presence known rain or shine.
Former Massachusetts Gov Mitt Romney will officially be nominated as the Republican Party's presidential candidate on Tuesday, one day later than originally planned.
His nationally-televised acceptance speech will be on Thursday night as originally planned.
Tuesday evening's program includes remarks by Ann Romney, the candidate's wife, as well as by New Jersey Gov Chris Christie, previously announced as the keynote speaker.
Ryan will deliver his acceptance speech Wednesday evening in prime time in the eastern part of the United States, and Romney's speech dominates the final night.
Donald Trump, who was originally scheduled to speak on Monday, was dropped from the program altogether in the weather-related reshuffling.
Other top Republicans are thinking about skipping out on the convention as Isaac approaches. Among them is Louisiana Gov Bobby Jindal, who earlier on Sunday declared a state of emergency for the Bayou State, and declared that he would not leave if it was hit by Isaac.
Alabama Gov. Robert Bentley has canceled his trip to the convention because of Isaac, and Florida Gov. Rick Scott also gave up his speaking engagement.
Officials were handing out sandbags to residents in the Tampa area, which often floods when heavy rainstorms hit. Sandbags also were being handed out in Homestead, 20 years after Hurricane Andrew devastated the community there. Otherwise, however, convention preparations were moving ahead as usual.
Oil companies scrambled out of the path of Tropical Storm Isaac, withdrawing offshore workers and cutting oil and gas production in the Gulf of Mexico.
By mid-day Sunday, the U.S. government said that daily oil production in the Gulf was down 24 per cent and natural gas production was off 8 per cent.
Noting that the storm was moving west and threatening to grow more powerful, energy giant BP evacuated all its installations and temporarily halted production in the Gulf Sunday.
Earlier, it had pulled workers from its massive Thunder Horse platform in the eastern Gulf.
Royal Dutch Shell is withdrawing all workers and suspending production in the eastern Gulf. It is pulling out all but essential personnel and cutting production in the central Gulf.
Apache Corp., a Houston oil services company, is withdrawing 750 workers and contractors from its installations in the eastern Gulf. It is also cutting production of oil and natural gas.
Other energy companies have also been evacuating their platforms and rigs in the Gulf. Murphy Oil Corp., based in El Dorado, Arkansas, said Sunday that it is pulling out all workers and suspending operations in the Gulf.
The storm could spur short-term shut-downs of 43 per cent of U.S. offshore oil capacity and 38 per cent of its natural gas output, according to forecasters at Weather Insight.
Isaac has already left a trail of suffering across the Caribbean.
The tropical storm bore down on Haiti's southern peninsula on Saturday, leading to three deaths and dumping torrential rain on a nation still trying to recover from the horrific 2010 earthquake.
Isaac's rain and winds lashed Haiti's southern coast on Saturday, flooding parts of the capital Port-au-Prince and ripping through flimsy resettlement camps that house more than 350,000 survivors of the 2010 earthquake.
A 10-year-old girl was killed in Port-au-Prince when a wall fell on her and a woman in the southern coastal city of Jacmel was crushed to death when a tree fell on her house, government officials said.
At a tent camp in the seaside slum of Cite Soleil, corrugated plastic shacks were broken apart and water gushed in.
'We had never seen anything like this. Everyone fled to the church, but I didn't want to leave my home. All my things are wet,' said Edeline Trevil, 47, who survived with her cat. 'I'm cold! I've been wet since last night,' the shoeless woman added.
The storm caused power outages and flooding and blew off roofs as it moved across the hilly and severely deforested Caribbean country. Winds had died down by Saturday afternoon but forecasters said rains would continue in Haiti.
Damage had so far been less than feared, said George Ngwa, Haiti spokesman for the United Nations Office of Coordination of Humanitarian Affairs.
'We don't have any serious reports of major flooding or mudslides so far,' he said.
In Haiti, the United Nations mission said it was prepared to distribute food and emergency supplies for more than 300,000 people, and 10,000 U.N. troops, including several engineering units, stood ready to clear roads for emergency response teams.
The government and aid groups tried to evacuate thousands of tent camp dwellers on Friday but many Haitians chose to remain in their flimsy, makeshift homes, apparently fearing they would be robbed, said Bradley Mellicker, head of disaster management for the International Organization for Migration (IOM).
Haitian Prime Minister Laurent Lamothe urged people to avoid crossing rivers and to stay calm, saying 'panic creates more problems.'
He said the government had set aside about $50,000 in emergency funds and had buses and 32 boats on standby for evacuations.
About 400,000 people remain in settlement camps comprised of shacks and tarps in the wake of Haiti's devastating 2010 earthquake.
In Port-au-Prince, a city of some 3 million ringed by mountains, people went to work as usual Friday, but commercial banks closed at noon and some residents took precautions as the sky darkened, rain fell and the wind picked up.
'Just in case this gets very bad - the sky is turning gray - I'm making sure we have enough food in the house,' said 25-year-old Joanne Dorville as she carried home rice, sardines, black beans and cooking oil that she had purchased in a street market.