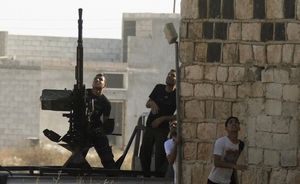 At least 12 people have been killed in tribal clashes in the western Libyan town of Zlitan, local media reported yesterday, the latest in a growing number of violent incidents that have gripped the North African country since an armed revolt deposed Muammar Gaddafi's regime.
The fighting erupted late Thursday after a tribesman was killed by a rival tribe in the town, which is located some 120km south-east of the capital Tripoli, said the independent news agency Solidarity Press.
The two tribes are also at odds over whether to keep or remove a shrine in the town, added the report, citing a local source.
Around 40 people were also injured in the clashes.
Libya has seen a series of deadly clashes between rival tribes and militias since last year's ouster of Gaddafi.
In other developments, Libyan government forces confiscated rocket launchers and other weapons from a militia loyal to Gaddafi, the BBC reported, citing a government spokesman.
The haul was made during a raid earlier this week on a camp south of Tripoli occupied by the Brigade of the Faithful at Tarhuna.
One person was killed and several injured during the crackdown, interior ministry spokesman Abdelmonem al-Hur said late Thursday.
The government has blamed the militia for twin car bombings on Sunday that killed two people in Tripoli.
Thirteen members of the militia were arrested in the raid, as three others escaped, according to the official.
Source: Deutsche Presse-Agentur