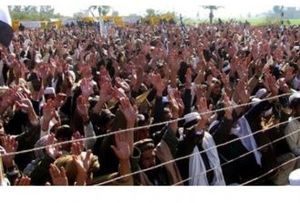 U.S. missiles slammed into three compounds close to the Afghan border Friday, killing 18 people, Pakistani officials said, just a day after the government summoned an U.S. diplomat to protest drone strikes in the country's northwest tribal region.
The drones struck the North Waziristan tribal area, Pakistani media reported.
Friday's strikes were the fourth attack in the span of a week, as well as the most deadly.
The drone campaign has been a source of friction between the U.S. and Pakistan, which sees the strikes as an infringement on its sovereignty.
On Thursday, Pakistan's Foreign Ministry summoned a U.S. diplomat to protest the recent drone strikes.
"A senior U.S. diplomat was called to the Ministry of Foreign Affairs and informed that the drone strikes were unlawful, against international law and a violation of Pakistan's sovereignty. It was emphatically stated that such attacks were unacceptable," the Foreign Ministry said in a statement. The diplomat was not identified.
One day later, Pakistani intelligence officials said American drone-fired missiles hit three militant hideouts in Pakistan's North Waziristan tribal areas.
The officials said each of the three compounds was hit by two missiles.
Fourteen people were also injured in the attack.
The officials spoke on condition of anonymity because they were not authorized to speak to reporters. There was no immediate comment from the U.S.
Drones 'illegal, unproductive'
Pakistan's foreign ministry spokesman Moazzam Ahmad Khan criticized Friday's strikes during his weekly press briefing in Islamabad.
"We regard these strikes as illegal and unproductive," he said.
"
These attacks also violate our sovereignty, territorial integrity and are in contravention of international laws.
"
The surge in drone attacks this week has come after reports of a thaw in Islamabad's difficult ties with the United States following a visit to Washington by Pakistan's spymaster, Lieutenant General Zaheer ul-Islam, earlier this month.
Islam's talks with his CIA counterpart were said to have focused on drone strikes.
Khan said Pakistan was working with the U.S. leadership on the drone issue.
"We are working on various proposals and hope to come up to a mutually acceptable solution," he said.
But he refused to discuss the nature of proposals, saying it was difficult for him to share these with the media.
Over 200 people have been killed in drone attacks in the Federally Administered Tribal Areas (FATA) of northwestern Pakistan in 2012.
The United States claims that its airstrikes target militants who cross the border into and out of Afghanistan, but
local sources say most of the victims of the attacks have been civilians
.
Pakistanis have held many demonstrations to condemn the United States' violations of their national sovereignty.
On January 31, President Barack Obama confirmed that the U.S. uses drones in Pakistan and other countries.
In reply to questions about the use of the assassination drones by his administration in a chat with web users on Google+ and YouTube, the U.S. president said, "a lot of these strikes have been in the FATA."