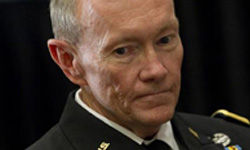 Chairman of the US Joint Chiefs of Staff General Martin Dempsey left Afghanistan shortly after two rockets damaged his plane in Bagram airbase.
Two rockets hit Dempsey's plane when it was parked at Bagram Airbase, north of Kabul, late on Monday night and slightly wounded two ground staff. They also damaged a nearby helicopter.
Dempsey, who had been in the country for talks with NATO and Afghan commanders on a string of recent shootings, left the country on another aircraft.
Before leaving Afghanistan, Dempsey met his Afghan counterpart General Sher Mohammad Karimi, who raised the issue of insider attacks by local forces that have killed 10 American occupiers in the past two weeks.
Following the meeting with General Karimi, Dempsey told reporters "this time, without prompting, when I met General Karimi, he started with a conversation about insider attacks - and, importantly, insider attacks not just against us, but insider attacks against the Afghans, too".
The US top army general escaped the rocket attack unharmed as he was not aboard the plane when it was hit by the [alleged] insurgents.
"
He was nowhere near the aircraft
. We think it was a lucky shot," NATO senior spokesman Colonel Thomas Collins said.