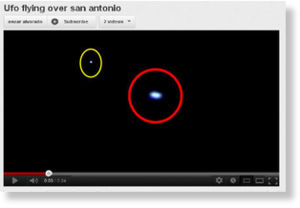 A blue orb UFO was spotted hovering silently in the darkened skies over San Antonio. Witnesses are clearly puzzled by the unidentified flying object, caught on video, and it doesn't resemble any known aircraft. What is it?
The object seems to be spinning and is very high in the sky. The man who made the video refers to more than one object, but only one is shown in this video.
Either the craft blinks out a few times, or it's a trick of light caused by a shaky camera hand. If it does just blink out, going completely dark, it would make for a very dangerous obstacle in the air to other planes, jets or helicopters.
San Antonio is a thriving city with plenty of civilian and military aircraft passing overhead, day and night. So why were these witnesses so surprised?
It would seem that they could tell the difference between an airplane, jet or helicopter and a UFO.
So what is it?
Here's the video: