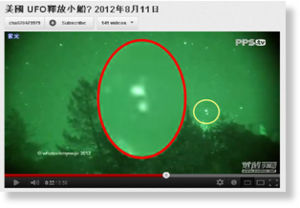 A UFO video on YouTube is remarkable because the unidentified flying object, caught on a night vision skycam, seems to drop a ball of light to the ground. What is it?
The video is labeled in Chinese and details are light on the channel. It's not clear where this was filmed, but the sky is alive with moving objects, so it's probably not a remote area.
One of the flashing orbs picked up by the night vision infrared video camera can't be distinguished at the distance it's flying, but the regular, flashing light means it's more than likely an airplane, helicopter or jet. It's what happens next which is hard to explain.
As the UFO passes by, a flash of light drops away from its body. If it is a conventional aircraft, what happened to it? It's a very strange sight and a lucky catch.
Hopefully, someone can come forward to identify where this occurred and, possibly, explain what is happening here.
It's a genuine mystery.
Here's the video: