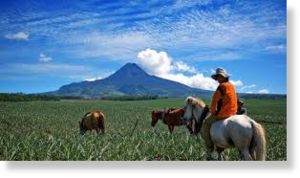 The Philippine Institute of Volcanology and Seismology (Phivolcs) has allayed fears of volcanic activity in Mt. Matutum as claimed by residents. Phivolcs chief Renato U. Solidum, Jr. said in a letter sent to Mayor Reynaldo S. Tamayo on Friday that the observations of smoke and fire coming out of the crater were non-volcanic in nature. "Ocular inspections at the crater area and seismic records showed that there were no volcanic activities, specifically an imminent eruption, in Mt. Matutum," Mr. Solidum said.
Rolly T. Visaya, Tupi information officer, told
BusinessWorld
that weeks prior to the Phivolcs letter, residents of Barangays Acmonan and Kablon in Tupi, and Maligo in Polomolok observed certain developments such as: the descent of wild animals from the mountains, as well as burnt vegetation.
The locals also claimed to have felt the ground shaking and heard unusual rumblings from the volcano, he added. To confirm the observations, both Tupi and Polomolok towns sent their rescue teams to Mt. Matutum to get firsthand information through photographs and videos. From the information acquired, Mr. Tamayo, who also chairs the Municipal Disaster Risk Reduction and Management Council of Tupi, then requested for Phivolcs's investigation.
The absence of micro-earthquake activity in the seismic record of the agency's volcano-seismic observatory at Mindanao State University in General Santos City meant that the phenomenon is not volcanic in origin, Mr. Solidum said. On the reported sighting of wild animals descending to the lowlands, he said it could be due to scarcity of food or disturbances of their habitat, be it man-made, lighting and other phenomena. Before Phivolcs's response, there have been reports of several families from the adjoining town of Malungon in Sarangani province who have evacuated from their houses for safety, Mr. Visaya said.
Mt. Matutum stands 2,286 meters, the 14th highest peak in the Philippines, and has a base that covers the towns of Tupi and Polomolok in South Cotabato and Malungon in Sarangani. The popular trekking destination's last recorded eruption was in 1911, Mr. Visaya said citing Phivolcs records. Mr. Solidum explained that a new volcanic vent, as dormant volcano reactivates will not dissipate overnight, but will become more vigorous over time. He explained "that should the volcano end its dormancy and enter a period of magmatic activity, unmistakable signs of unrest will be manifested, such as small ash and gas explosions that can intensify through time, ground deformation, vegetation kill, unabated crater glow at the summit and increasingly perceptible earthquakes." Mr. Visaya said Phivolcs national office personnel are in town to further study the volcanic conditions. -
Business World