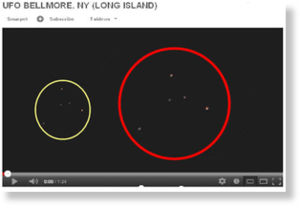 A spooked father and his young son witnessed and videotaped a star-shaped, flashing UFO hovering over the night skies of Bellmore, NY, and the eerie sight raised some pre-Halloween scares. What was it?
The video shows a large, flashing object in the dark skies outside the man's home on Long Island. The pitch black night makes the object stand out clearly for the first minute of the video.
Then it slides behind some rooftops and out of sight. The witness keeps his camera on a glowing, orange orb after the star-shaped craft disappeared. But it's not clear if the two separate objects were part of the same UFO.
The clearly frightened father shows a glimpse of his young son standing in the darkened doorway of the house. It's a shot worthy of
Paranormal Activity
and all its numerous sequels.
Whatever this oddly shaped, mysterious aircraft (which drifted away without making a sound) turns out to be, it gave father and son a memory they'll share for life.
Here's the video: